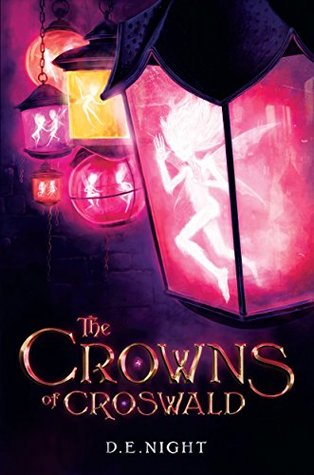 Title:
The Crowns of Croswald
Series: The Croswald Series #1
Author:
D.E. Night
Pages: 314
Published: July 21st 2017 by Stories Untold Press
Source: For Review
PURCHASE: Amaon.com / Amazon.co.uk / Book Depository
In Croswald, the only thing more powerful than dark magic is one secret…




For sixteen years Ivy Lovely has been hidden behind an enchanted boundary that separates the mundane from the magical. When Ivy crosses the border, her powers awaken. Curiosity leads her crashing through a series of adventures at the Halls of Ivy, a school where students learn to master their magical blood and the power of Croswald's mysterious gems. When Ivy's magic––and her life––is threatened by the Dark Queen, she scrambles to unearth her history and save Croswald before the truth is swept away forever.
My Thoughts:
Ivy Lovely knows nothing other than her duties as a scullery maid. For years, she has toiled away in the kitchens along side the Scaldron dragons, whom bake food in their mouths. When a smaller dragon gets sick, Ivy tries to hide the fact from Helga, the head of the kitchen. But things happen and both Ivy and the dragon are thrown out. Little does Ivy know that she was placed, there under a magical barrier, to protect her from the people who will do her harm. Once she passes the barrier, her powers awaken and Ivy is thrust into a world of magic and her life is about to change forever.

I read this with my son and I have to say, we both thoroughly enjoyed every aspect of it! The world building was magical! We have the Scrivenerists, these are the ones who have a photographic memory and record and draw everything they see. They are assigned to a royal family when they graduate and have to record their whole lives. Ivy is put into this category, which she loves because she loves to draw. Then we have the princesses who have the magic from their stones in their crowns. Different stones produce different magics. Then we have a fantastical array of magical creatures, from dragons to little creatures that produce light and are used in lanterns. I think both my son and I thoroughly enjoyed seeing all the magic and the creatures come to life with the authors descriptive writing. I could clearly see all that was unfolding and I so want this to become a movie!!

I also loved the characters. Each was well written and developed. Ivy was such a wonderful character and she was my sons favourite. She had a hard time growing up and its made her all the more lovable because of it. She is smart, brave, compassionate and loving. She is the perfect heroine for kids!! I would love to see more like her in the middle grade books.

In all, this was a great read. If you love Harry Potter, then you will love this because it evoked the same kind of feelings from me as I had when reading Harry Potter! It is a magical story filled with action, adventure, unique characters, unique magic and plenty of mischief from the characters. The author has created an amazing world and one I can't wait to dive into again. Highly recommend.