Welcome to my Best Reads of 2017. I've been extremely lucky this year, in regards the books I've read, and have found some truly amazing reads!! The books I've chosen were ones that stayed with me this year and were all 5 star reads. I'm also doing a giveaway where you can win an eCopy of any of the ones featured!!
But first, here are my stats according to Goodreads!!
I read 57,351 pages across 225 books
SHORTEST BOOK was
8 pages and
LONGEST BOOK was
756 pages
AVERAGE LENGTH was 255 pages
MY AVERAGE RATING FOR 2017
4.4 STARS
The choices below are in no particular order, but I will name my absolute favourite first!! It's not even a single book, but a series I started this year and absolutely devoured, and even read twice! So without further ado, my top favourite this year is......
The Extinction Horizon Series by Nicholas Sansbury Smith!!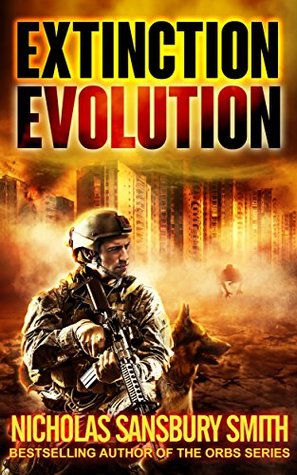 Click the images to go to the Amazon Page. This series blew my mind! I had the first book on my kindle for ages, but I had a credit and decided to try the first book on Audible. Right from the start, I was hooked and got all the rest on Audible through the Whispersync option. Brilliant books!!!
The rest of the choices are in no order....Clink the book name to be taken to Amazon, click the picture to read my review.
Dweller by Jeff Strand:
When Toby Floren was eight years old, he discovered a monster living in the woods behind his house. A ghastly, frightening creature with claws, fangs, and a taste for human flesh. As he ran out of the forest, Toby felt that he'd been lucky to escape with his life.
Years later, Toby finds comfort with the creature. It's his own special secret--something that nobody else in the world knows about. Somebody to talk to. Somebody to confide in. Sure, Toby has concerns about his own sanity, but really, what boy wouldn't want to be best friends with a monster in the woods, especially if he's being tormented by bullies? The creature, who he names Owen, may be the answer to his problems...
From Jeff Strand, the author of PRESSURE, comes the story of a macabre, decades-long friendship. A relationship that will last their entire lives, through times of happiness, tragedy, love, loss, madness, and complete darkness.
DWELLER. The lifetime story of a boy and his monster.
Heaven's Door by John G. Hartness:
AWARD-WINNING DARK FANTASY TO READ WITH THE LIGHTS ON
He's finally found something to care about after a century of searching, but will he lose it all at the hands of his most dangerous foe yet?
Seven years ago, Quincy Harker vanquished the demon Orobas and saved the city of Charlotte, NC from his evil plans. Or so he thought. Now the half-divine Nephilim are turning up dead in the Queen City, and it looks like Orobas is back to finish the job.
Can Harker stop Orobas, or will the bloodthirsty demon unleash Hell on Earth?
Who is behind these horrible murders, and why do they seem to be calling Harker out?
Will this be the battle that finally ends the long life of Quincy Harker, Demon Hunter?
Find out when Harker, his girlfriend Detective Rebecca Flynn, his guardian angel Glory, and his uncle, the legendary Count Dracula bring the battle of the diving and demonic right to HEAVEN'S DOOR.
He's the immortal magic-wielding child of Jonathan Harker and Mina Murray from the classic novel Dracula. But to him it's not a story, it's family history. Quincy Harker is what you'd get if Constantine were renewed by HBO and taken to the darkest of dark sides. When things go bump in the night, he bumps right back.
Heaven's Door is Book 6 of the best-selling Quincy Harker, Demon Hunter series. Book 1 of the series, Raising Hell, was awarded the 2016 Manly Wade Wellman Award by the NC Speculative Fiction Foundation.
The Cryptic Lines
by Richard Storry
In a remote, crumbling, gothic mansion the aged Lord Alfred Willoughby writes his Last Will and Testament, and deliberates over what is to become of his vast fortune after his passing. The obvious thing is to leave it to his only son, Matthew, but the boy has grown up to become a wastrel, unable to hold down a job and constantly relying on hand-outs from his father. So what to do? He finds himself torn. His head tells him to leave Matthew nothing at all; but his heart feels differently. After all, he is still his son...
Finally, he settles on the solution: In one last-ditch attempt to show his son that nothing worth having is gained without effort he sets a series of enigmatic puzzles. If Matthew can successfully solve them he will inherit the entire estate. If he fails, he receives nothing.
However, it emerges that Matthew is not the only interested party. The mansion hides many secrets, and things are not at all as they first appear...
Small-town Deputy Sheriff A.J. "Jesse" Prieo led a comfortable life with his wife and daughter by his side. All that changed in an instant when genetically engineered creatures—terrifyingly similar to velociraptors—were set loose on an unsuspecting world.
In the post-apocalyptic aftermath, pockets of civilization endure, but they are few and far between.
Helped by a sword-wielding former radical, a woman of shifting loyalties, and a mysterious lost child, Jesse must do whatever it takes to lay his ghosts to rest and survive long enough to uncover the twisted secrets behind the Raptor Apocalypse.
Sanford Hospital. A Victorianesque monstrosity with creeping ivy and the infamous Ward E, home of the soon-to-be-dead. This is where ghost hunter, Shane Ryan, ends up for his burn treatments. Courtesy of the Veterans Administration system, the ex-marine is cut off from his private doctors and thrust into the arms of a hospital with one special nurse from hell; Nurse Ruth Williamson, who is as dead as they come.
The Nurse is a whole new breed of undead. She has a cadre of helpers who are loyal to the grave. Her twisted sense of mercy is death to the dying … and the living if they get in her way. And Shane Ryan is in her way.
Gathering his new friends and a few ghostly comrades, Shane takes up arms against the unholy regiment to fight the good fight. He can't allow the Nurse to continue her killing spree. She is not God and her legacy of death must be stopped. Although she has a few more tricks up her sleeve, Shane's mission is clear. The Nurse must die. And stay dead. Once and for all.
He's Quincy Harker, the unaging son of Jonathan Harker and Mina Murray. His guardian angel calls him "Q." Dracula calls him "nephew." His bosses call him a pain in the ass. Demons call him The Reaper.
On the run and reeling from his bloody battle with the demon Orobas, all Harker wants to do is lie low in Lockton, Ohio for a few months and let his physical and spiritual wounds heal. But there are werewolves in the diner, and magically-talented teenagers disappearing all over town. Now Harker's hip-deep in demons again, but this time he's got no backup.
Meanwhile. Detective Rebecca Gayle Flynn and the rest of Harker's team are back home in Charlotte, NC, trying to prove his innocence and figure out Orobas' next move. But no one knows how corrupt Homeland Security or the police department are, or how high the scandal runs. And now some guy shows up claiming to be the great-great-grandson of Doctor Watson (yeah, that Dr. Watson) offering to help?
Will Harker survive a battle with Hell in a small town all on his own?
Can Flynn and Uncle Luke find the proof they need to bring Harker home?
Will they stop Orobas' master plan before he unleashes Hell on Earth?
Who is this mysterious Shadow Council, and what do they want?
When all else fails on Earth, will Heaven Help Us?
175 years have passed since God quit on mankind. Without his blessing, Hell itself, along with the ancient power of The Deep, were unleashed upon the world. Two world wars and oceans of blood later, a balance was reached. Demonkind took its place as the ruling aristocracy. Mankind, thanks to its ability to create, fell to the position of working proletariat. Alive, but not living.
Lucky Us.
Welcome to New Golgotha, the East Coast supercity. In it you will find sins and cyborgs, magic and mystery, vices without virtue and hell without the hope of heaven. In the middle of it all is Salem, smuggler extraordinaire and recluse immortal, who has lived and fought through the last two centuries, but his biggest battle is just beginning.
To Beat The Devil: A technomancer Novel is an incredible adventure full of cyborgs and demons, gods, magic, guns, puns and whiskey, humor and heart. Follow Salem as he embarks to discover the meaning of the very nature of what mankind is: our souls. And, who is trying to steal them.
On any given day, Chief Carrie Stewart has her hands full, between meth cooks, pot farmers, drunk and disorderly calls, and the ever-present day to day hassles of running an underfunded police department.
But when first livestock and then people start dying, it will take the help of a mysterious man and all her resources to discover the truth.
Is she the hunter, or the hunted?
There is no sun. There is no moon. There is only gray—the smog belched from coal-fueled factories. The Workers silently shuffle to their assigned posts. The Outcasts watch from the alley walls. On every corner, a Watcher stands stone-faced, a rifle in hand. This is the only life that exists. Beyond the mountains is a dream. But dreams are foolish in a place like this.

Hannah has spent nineteen years dodging Watchers and doing as she is told.

"Do not look Watchers in the eye. Don't give them a reason to notice you."

But when she wakes to the valley exploding in revolution, Hannah is forced onto a dangerous path, where nothing is what she believed. Suddenly freedom is in her grasp, and the way there requires working with the men she once feared.
I Am Legend meets Gravity and The Martian when Earth's last man discovers that the last woman is stranded alone aboard the International Space Station. If you like action-packed, page-turning novels, you'll love the electrifying action in this apocalyptic thriller.
Can Humanity's Last Two Unite?
Separated by the gulf of space, the last man and woman of the human race struggle against astronomical odds to survive and unite.
Army Aviator Vaughn Singleton is a highly intelligent, lazy man. After a last-ditch effort to reignite his failing military career ends horribly, Vaughn becomes the only human left on Earth.
Stranded alone on the International Space Station, Commander Angela Brown watches an odd wave of light sweep across the planet. Over the next weeks and then months, Angela struggles to contact someone on the surface, but as she fights to survive aboard a deteriorating space station, the commander glimpses the dark underpinnings of humanity's demise.
After months alone, Vaughn discovers there is another. Racing against time, he must cross a land ravaged by the consequences of humankind's sudden departure.
Can Vaughn find a path to space and back? Can Angela—the only person with clues to the mystery behind humanity's disappearance—survive until he does?
Yes, I am talking to you, the reader of the this book's description. It's rude not to answer a person when they ask you a question. OK, I get it, 4th wall breaking is overdone. Get over it. This book, Villains Rule, is a fantasy action-comedy which you have to read. Not because it redefines the genre, far from it. But rather for what it contains. A villain's tale.
How often do you get to read a story where the villain is the protagonist? No, not an anti-hero, or a brooding monster, nor a hero thinly disguised as a villain. And not evil. If you want evil, take that nonsense to therapy. No, I mean a villain's villain. The ones who use their power because they can, while morality is only a philosopher's complex.
This is the story of Jackson Blackwell, the Shadow Master and the top villain adviser. Sadly, even the top villain occasionally gets double-crossed. Trapped in one of the fantasy realms, Jackson has to use his skill and wits to exploit the rules, points out the genre flaws, undermine godly authority, and win the day.
Because, that is what villains should do, shouldn't they? Read this book, have a few laughs, and find out.
So that's it. They are the cream of the crop!!! I could pick out a load more but I had to be strict and only pick the ones I absolutely loved!! Enter the rafflecopter below to win an eCopy of any of the ones featured! Or you can pick any other book by the featured author.
a Rafflecopter giveaway