I haven't read this series yet but it's in my queue!! This sounds amazing and has some pretty impressive ratings. Have you read them? Would you?
More than two centuries after World War III poisoned the planet, the final bastion of humanity lives on massive airships circling the globe in search for a habitable area to call home. Aging and outdated, most of the ships plummeted back to earth long ago. Enter the Hell Divers—men and women who risk their lives by diving to the surface to scavenge for parts that keep their homes in the air. When one of the two surviving airships is damaged in an electrical storm, a Hell Diver team is deployed to a hostile zone called Hades. But there's something down there that's far worse than the mutated creatures discovered on dives in the past—something that threatens the fragile future of humanity.
Goodreads:
https://www.goodreads.com/book/show/29343106-hell-divers
Amazon:
https://www.amazon.com/Hell-Divers-Trilogy-Book-ebook/dp/B01BW6CG1Q/ref=sr_1_1?ie=UTF8&qid=1505468497&sr=8-1&keywords=hell+divers
Ten years ago, Hell Diver Xavier "X" Rodriguez fell to Earth. Those he left behind went on without him aboard the airship he once called home.




Michael Everheart -- the boy once known as Tin -- has grown into a man and the commander of Hell Diver Raptor Team. While Michael dives to help keep the Hive in the air, Captain Leon Jordan rules with an iron fist at the helm of the ship. But unrest stirs under his strict leadership as a prophecy of hope sweeps the lower decks.




When a mysterious distress signal calls the Hell Divers to the surface, Michael and his loyal team begin to uncover long-buried truths and the secrets Captain Jordan will do anything to keep. They dive so humanity survives… but will they survive the ultimate betrayal?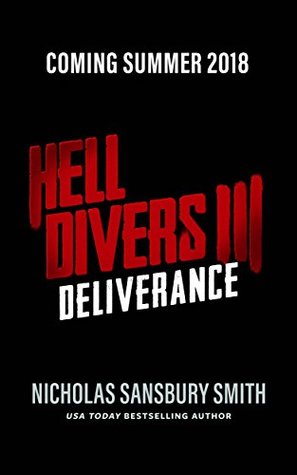 They will dive, but will humanity survive?

Nicholas Sansbury Smith's USA Today bestselling trilogy began with his acclaimed novel Hell Divers, an Audible Editors Best Audiobooks of 2016 Top Pick and a finalist for the 2016 Foreword INDIES Award for Best Science Fiction Book of the Year. The high-octane adventure finally comes to an end in Hell Divers III: Deliverance. Will the heroic Hell Divers locate the man that can lead them to a new home, or is humanity doomed forever?