Author: Kat Green
Narrator: Kate Tyler
Length: 5 hours 24 minutes
Series: Haunts for Sale, Book 1
Publisher: The Wild Rose Press
Released: Nov. 9, 2017
Genre: Horror
Sloane Osborne is a paranormal real estate agent in the business of selling haunted houses, but, in truth, she's only searching for one ghost. And her time is running out. It's the 366th day after her fiancé's death. Michael used to like putting things off for "a year and a day" - so tonight's the night. Sloane will do anything to make contact with him before the clock strikes midnight. When she gets a call to check out a home in Waukesha, Wisconsin, it's the last place she thinks Michael would contact her. Sloane is dead wrong.
Purchase: AMAZON / AUDIBLE
AUDIO EXCERPT: An audio excerpt can be found HERE.
Guest Post: This or That?
Waffle fries or curly fries?
Curly Fries

GIF with a hard g or soft g?
Hard g

Fantasy or science-fiction?
Fantasy

Superman or Batman?
Batman

Text message or call?
Text Message

Pancakes or waffles?
Waffles

Doctor Who or the Walking Dead?
Doctor Who

TV Shows or movies?
Movies

Facebook or Twitter?
Facebook

Alice in Wonderland or Robinson Crusoe?
Alice in Wonderland

Being too warm or too cold?
Too cold

Netflix or Hulu?
Netflix

Work Hard or Play Hard?
Work hard

Passenger or Driver?
Passenger

Amusement Park or Day at the Beach?
Amusement Park

Honesty or Other's Feelings?
Honesty

Movie at Home or Movie at the Theater?
Movie at the Theater
About the Author:
Kat Green is really the alias of authors KAT de Falla and Rachel GREEN.

Rachel Green has always believed in ghosts but saw her first full body apparition while working at an old movie theater in college. When she met Kat de Falla at a writer's workshop, she knew she'd met a kindred spirit – one who was also sensitive to the hereafter. And after bonding on a few ghost adventures, Kat Green was born.

Kat lived in a haunted house for too long. When things really heated up, she had several paranormal teams investigate, but things only got worse. When her mother suggested they contact a shaman, she agreed to come, saying she had been waiting for Kat's call. The home was cleansed and sold. When she paired up with Rachel Green, the idea of co-writing a book with a paranormal real estate agent seemed perfect.

With their combined paranormal "experiences", they decided to combine their creative mojo. That's when Sloane Osborne, Paranormal Real Estate agent, and the HAUNTS FOR SALE series was born.
About the Narrator:
Kate Tyler is an audiobook narrator and producer with several published audiobooks available on Audible, iTunes and Amazon. A background in drama and a successful career in voiceover, Kate lives with her family in San Diego and enjoys swimming, running, cycling and stand up paddleboard.
GIVEAWAY:
First Contact Giveaway: $25 Amazon Gift Card
Feb. 19th:
Hall Ways Blog
Buried Under Books
Bookworms Corner Blog Spot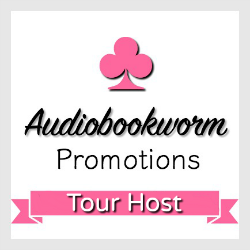 ➜Sign up as a host here