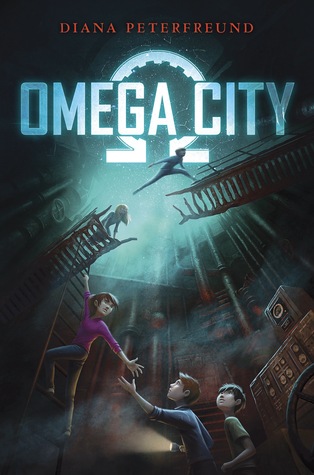 Title:
Omega City
Author:
Diana Peterfreund
Pages: 336
Published: April 28th 2015
Publisher: Balzer & Bray
Source: Edelweiss
Purchase: Amazon/ Book Depository
The first middle grade novel in an exciting new series from acclaimed author Diana Peterfreund, perfect for fans of

The Goonies

and

The City of Ember

.




Gillian Seagret doesn't listen to people who say her father's a crackpot. His conspiracy theories about the lost technology of Cold War–era rocket scientist Dr. Aloysius Underberg may have cost him his job and forced them to move to the middle of nowhere, but Gillian knows he's right and plans to prove it.




When she discovers a missing page from Dr. Underberg's diary in her father's mess of an office, she thinks she's found a big piece of the puzzle—a space-themed riddle promising to lead to Dr. Underberg's greatest invention. Enlisting the help of her skeptical younger brother, Eric, her best friend, Savannah, and Howard, their NASA-obsessed schoolmate, Gillian sets off on a journey into the ruins of Omega City, a vast doomsday bunker deep inside the earth,.




But they aren't alone inside its dark and flooded halls. For while Gillian wants to save her dad's reputation by bringing Dr. Underberg's secrets to light, there are others who will stop at nothing to make sure they stay buried . . . forever.
My Thoughts:
I loved this!!! Such a fun and adventurous read.
When Gillians father publishes his book about a cold war rocket scientist, Dr Aloysius Underberg, he is discredited and ridiculed. People say everything he wrote was hearsay and not researched, but Gillian knows differently. She saw all his research but it was destroyed when their house got flooded and destroyed. Gillian reckons that it was all done deliberately and her father was right. When she finds a missing page from the diary of the scientist and sees that it's a map of some sort, she knows that she needs to follow the map and try to see can she find evidence to help her father. It also helps that his new assistant and girlfriend seem awfully interested in her fathers research. She knows there is something more here and is determined to find out. She needs help with the riddle on the map so recruits Howard, a nerdy boy who is obsessed with space, her younger brother, whom she has no choice but to bring and her best friend Savannah, a wickedly clever girl who hides her smarts to be popular. All 4 decide that they will follow the map and see what happens. Howard gets his brother to drive them and they set off. What they find though blows their minds.
I loved each and every one of the characters in this book!! Gillian with her firm belief in her father and need to help him, Eric with his love of video games but fear of getting eaten by worms in the dark, Savannah with her super smarts that she hides, Howard with his love of all things NA-SA and space and Nate, Howards older brother, who is a pizza delivery boy that Savannah has a massive crush on and who is roped into helping. Each of them were so well written that it's hard not to love them and plenty of kids will relate to them because they are like any other child you know.
One thing I loved about the book was the dynamics within the group. Gillian and Eric are typical siblings, they fight and argue but would do anything for each other. Savannah and Gillian are best friends, though they used to only be summer BFFs until Gillian had to permanently move there. The summer Sav is different to the other Sav. During summer she lets her smarts loose but any other time she hides it to seem more cool. Gillian doesn't understand why and gets frustrated with her, yet they stick together no matter what. Savannah will do anything for Gillian and they have such a strong bond. Then we have the other siblings, Nate and Howard. Everyone thinks Howard to be weird and he doesn't have any friends but Nate is able to reach him. He looks out for Howard and I loved seeing them together.
I also loved the plot of Omega City. It has an old school mystery feel to it that brought me back to my own childhood. Learning about Dr. Underberg and what he invented was fascinating. I loved that they had a bit about the Cold War in it as well. It all tied together really well. I loved that the kids had to use their brains to solve stuff and not just rely on luck or brawn. We need more MG that focus on using smarts to reach your goal. I loved seeing them work as a team. No one person was important and each of them had their strengths.
In all, an incredibly well written and developed book. It was action packed, fascinating and unique and one that everyone should read. I have ordered a copy for my boys because I know they will love it. The only left to say is to go buy your copy now, you wont be sorry!!!