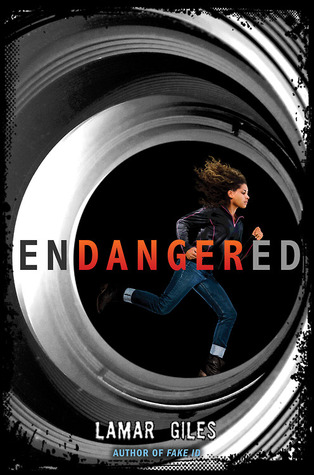 Title :
Endangered
Author :
Lamar Giles
Pages : 288
Published : Harper Tenn
Published : April 21st 2015
Source : Edelweiss
Purchase : Amazon/ Book Depository/
Endangered

is a thrilling page-turner perfect for fans of Barry Lyga's

I Hunt Killers

.




The one secret she cares about keeping—her identity—is about to be exposed. Unless Lauren "Panda" Daniels—an anonymous photoblogger who specializes in busting classmates and teachers in compromising positions—plays along with her blackmailer's little game of Dare or . . . Dare.




But when the game turns deadly, Panda doesn't know what to do. And she may need to step out of the shadows to save herself . . . and everyone else on the Admirer's hit list.
My Thoughts :
With it's engaging and diverse characters and captivating plot, Endangered is a must read!!
When Laurens ex makes fun of her in front of the entire school, she decides to get back at him. Why should she be humiliated and not him? She takes a photo of him and engineers a blog called Gray. She posts the photo and everyone sees it, score one for Gray. Lauren then figures, why not try to humiliate the people who bully us! She then proceeds to take photos of the wrong doers and posts them on the site. Everyone loves Gray but no one knows who Gray is!
Lauren's recent photo is one of a teacher in an uncompromising position with a student,
Keachin. Things start to spiral out of control from the moment the picture is posted. Then to top it all off, Lauren gets an email with only a photo of herself on it. Thing is, it's a photo of Lauren taking the photo of Keachin with the teacher. Someone knows her secret and is willing to post it unless she takes part in his game of Dare. Laurens life is about to change forever but can she find out who wants to expose her before it's too late?
Lauren, "Panda", was an awesome heroine. She is by no means perfect and I loved that. She isn't mega popular, nor is she one of the ones being bullied all the time, she is a normal teenage girl with a strong sense of who she wants to be. She loves photography and wants to be a wildlife photographer when she grows up. When her ex does what he does to her, it's by sheer luck that she has her camera with her when she sees him picking up dirty laundry from the gym. She decides to create a site and posts the picture with a witty caption. It takes off and as they say, the rest is history. She does it to make the people who are bullying realise what it feels like. I admired what she tried to do.
There was one thing that really really annoyed me with this book and that was how Laurens parents reacted to what she does. I thought they overreacted big time!! She is their daughter and both of them treated her like she was contagious. I know that if any of my kids were in that position that you would definitely take away their equipment but you would also understand why they did it and you would talk to them, not ignore them. Lauren did everything they wanted, and more, yet they came down on her so hard. I wanted to give her a cuddle and tell her that it was OK.
Anyway, now that thats out of the way, I loved the plot of Endangered. The mystery and suspense surrounding the Admirer was awesome, though I did have my suspicions. The game of Dare was unique and frankly, quite scary! Having to climb the building is something I never could do!! The freakishness of the Admirer was crazy. What he did and then sending the pics to Lauren was horrible. Can we say Stalker!!! As I was reading it, I wanted to read it faster so I could see what happens next! I couldn't flip the pages fast enough.
In all, an action packed and thrilling read. The Admirer gave me chills and the plot had me on the edge of my seat. I loved everything about this book and can't recommend it enough.