Welcome to the Debut Author Bash!! Today I get to feature Debut Author Patrick Samphire. Find out about his books below!! He was also kind enough to answer some of my questions, so I hope you will show him some love in the comments.
Title: Secrets of the Dragon Tomb
Author: Patrick Samphire
Pages: 322
Published: January 12th 2016 by Henry Holt and Company, LLC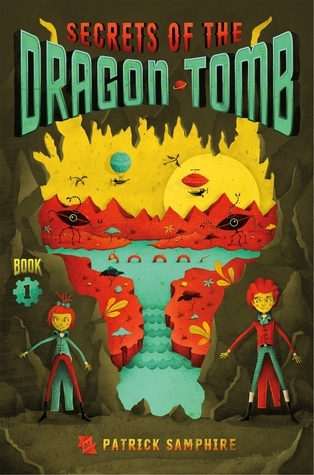 The year is 1816, the place is Mars. Home of pterodactyls, spies, and clockwork butlers…

All 12-year-old Edward Sullivan wants is to read his Thrilling Martian Tales in peace. But when a villainous archaeologist kidnaps his parents, Edward and his sisters must set out across the Martian wilderness to save them.

They'll have to dodge deadly beasts and murderous clockwork contraptions, and battle ruthless foes if they are to save their parents and uncover the secrets of the dragon tomb.

Secrets of the Dragon Tomb is an exciting, funny middle grade adventure full of fantastic inventions, terrible danger, exotic creatures, and larger-than-life characters.
Goodreads:
https://www.goodreads.com/book/show/22718687-secrets-of-the-dragon-tomb
Amazon:
http://www.amazon.com/Secrets-Dragon-Tomb-Patrick-Samphire/dp/0805099069/ref=sr_1_1?ie=UTF8&qid=1463759926&sr=8-1&keywords=patrick+samphire
Title: Empire of Mars
Author: Patrick Samphire
Pages: 352
Published: January 10th 2017 by Henry Holt and Co. (BYR)
A missing Martian. A sinister plot. A French spy.

If Edward thought life was going to be easy in Tharsis City, he was very, very wrong. The moment he intercepts a thief escaping from Lord Harleston's townhouse, he is caught up in a terrible scheme that threatens the whole of Mars.

Soon he's fighting off vicious sea serpents, battling a small army of heavily-armored thugs, and trying to unpick an impossible mystery. Meanwhile, Putty has declared war on her new governess, a war that, for the first time in her life, Putty may be in danger of losing.

Edward doesn't know whom he can trust. Will he make the right choice? Or will his family – and his entire planet – fall victim to the treacherous Emperor of Mars?

Join Edward and his family for a whole new, exciting adventure on Mars.
Goodreads:
https://www.goodreads.com/book/show/29102923-the-emperor-of-mars
Amazon:
http://www.amazon.com/Emperor-Mars-Patrick-Samphire/dp/0805099085/ref=la_B007QL5VSC_1_11?s=books&ie=UTF8&qid=1463760382&sr=1-11
Where do your ideas come from?
Ideas are kind of weird. People think they're like this magic object that is incredibly hard to find and incredibly precious, but the truth is, ideas are absolutely everywhere. Sometimes you might get them from an article you read in a magazine or on a website. Or from a song. Or from a conversation you're having. Or from a biography. Once I got the idea for a whole story simply from noticing that I'd stepped on a small piece of trash. (That story is called
How do you develop your writing ideas?
A lot of scribbling. I tend to start with a whole cloud of unrelated ideas, then slowly bring them together, add new ones, get rid of others, and eventually they evolve into something coherent, almost like trying to make something out of clay. When I've worked on it enough, I start to see the world and the story and the characters in it. At some point, it clicks and I'm away. I think I've only once had the idea for a whole novel come to me in a single flash, and once for a short story. The rest of the time, it's trial and error. Often lots of error.
When did you first realize you wanted to be a writer?
I was about 14. I don't know exactly what prompted it, but a friend and I asked our English teacher if we could use some of our lessons to write a book together, and she said yes. She was an awesome teacher. My friend and I sat outside the classroom, working on it together. I was very serious about the book and really wanted it published. The book was genuinely terrible, but after that, I never stopped wanting to be a writer.
What writers inspire/d you?
When I first decided I wanted to be a writer, it was fantasy authors like David Eddings and Raymond Feist who really inspired me. I loved being completely absorbed in their worlds and feeling like I was there with such fun characters. I wanted to write books that excited other people in the same way, that drew them in so that they didn't want to ever leave. I've moved on to other writers, but I still love books that have the same effect. Right now, the writers I'm most enjoying and feeling most inspired by are people like George RR Martin, Julian May, Brandon Sanderson, Stephanie Burgis, JK Rowling, Jonathan Stroud, and Rick Riordan. I've also really loved and been inspired by new authors like Parker Peevyhouse, Ronald L. Smith, Emily Skrutskie, and so many others. I could spend all day listing fantastic authors who inspire me...
How has your writing career changed since you started?
I started out writing short stories for adults (I published something like 17 or 18 of them in various places). Now I write novels for upper middle grade. So, yeah, it's kind of changed. When I wrote SECRETS OF THE DRAGON TOMB I was also working full time and writing in my lunch break. Now I split my time between writing, designing websites and book covers as a freelancer, and bringing up my kids.
What does your writing process look like?
My writing process goes: green tea, dark chocolate, "TURN OFF THE INTERNET!", "no, really TURN OFF THE INTERNET!", "man, is that the time?", write, write, write!
I'm not really a "plotter" or a "pantser". I kind of partially plot things out, partially play them by
ear. I also write differently for each book. Some get plotted out in detail, some have hardly
any pre-plotting and I just see what happens.
I'm a really big reviser, though. I write far too much and a big part of my process is cut, cut, cut. Then cut some more.
What are your writing goals for the next year?
I'm working on a new middle grade novel that I want to get finished by the end of summer, and I want to write at least one more novella that's linked to my SECRETS OF THE DRAGON TOMB series (I have one called THE DINOSAUR HUNTERS that will be out this summer). Then I need to figure out something completely new. Right now I have no idea what that will be. Could be chapter book, middle grade, YA, or even adult. Who knows!
Name the five biggest distractions from your writing.
Internet, internet, internet, internet, internet. Seriously. The internet kills me. Recently, we had a whole week when our internet was out and I did more writing than I had for years. Sadly, the internet is back on now…
What character would you most like to be stuck in an elevator with?
Ooh. If it was a character from my own book, I would go for Putty, my hero's little sister. She's brilliant, imaginative, never boring, and would get us out of there pretty quick. From someone else's books, I think I'd go for Nanny Ogg from Terry Pratchett's discworld series. It would be immense fun, but you'd be glad to escape at the end.
Some Get to know me Questions
What do you like to do when you're not writing?
Playing with my children, watching TV box sets, and learning new stuff.
What's the best vacation you ever had?
I was living in Guyana, in South America, working as a teacher. My parents came out to visit me, and we went up to a place called Karanambu. It's a former cattle ranch which has been converted into an eco-lodge. It's probably the most beautiful place I've ever visited. It has savannah, wetlands, rainforest, and rivers. There's incredible wildlife, like giant otters, caiman, giant anteaters, and enormous numbers of birds. And it was a great place to stay as well.
What's your favourite rainy day movie?
The Lord of the Rings. The whole trilogy if I can get the time!
If you could be any age again for a week, which would you choose and why?
30. That was when I met the person who was going to become my wife. We were a at a writing Workshop (Clarion West) and we had a great time.
If you could have personally witnessed one event in history, what would it be?
The first moon landing. I think it would have been such an amazing event. People were looking outwards and upwards. It's sad that humans haven't been back on the moon since 1972 - we haven't even been out of low Earth orbit since.
What's you favourite place to read?
In bed, at night, with the lights off (using a Kindle). There are no distractions, nothing else going on. I read until I'm too tired to stay awake.
When you walk into a book store, where do you head first?
To the middle grade section. I love middle grade. It's probably the last age where we read completely openly without any cynicism or skepticism. After that, I check out YA and the science fiction and fantasy sections.
If you had a million dollars, what would be the first thing you would buy?
A computer with a really big, high-quality screen. A lot of what I like doing needs a big screen, and right now I just have a standard sized laptop. Also, a new pair of socks.
About the Author:
Patrick Samphire started writing when he was fourteen years old and thought it would be a good way of getting out of English lessons. It didn't work, but he kept on writing anyway.

He has lived in Zambia, Guyana, Austria and England. He has been charged at by a buffalo and, once, when he sat on a camel, he cried. Patrick has worked as a teacher, a physics editor and publisher, a marketing minion, and a pen pusher (real job!). Now, when he's not writing, he designs websites and book covers. He has a PhD in Theoretical Physics, which means that all the unlikely science in his books is actually true. Well, most of it. Well, some of it. Maybe.

Patrick now lives in Wales, U.K. with his wife, the awesome writer Stephanie Burgis, their two sons, and their dog. Right now, in Wales, it is almost certainly raining.

He has published almost twenty short stories in magazines and anthologies, including Realms of Fantasy, Interzone, Strange Horizons, and The Year's Best Fantasy. Secrets of the Dragon Tomb is his first novel.
Website:
http://www.patricksamphire.com/
Twitter:
http://www.twitter.com/patricksamphire