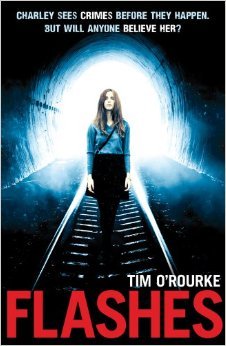 Title: Flashes
Author: Tim O'Roarke
Release Date:
June 5th 2014
Publisher: Chicken House
Flashes is the first in a new series of YA paranormal crime novels in which a 17-year-old girl cannot help seeing glimpses of dead people who seem to want her aid - much to the consternation of her boyfriend, who has just started work for the local CID.
Julies Thoughts :
**Warning: Contains Some Minor Spoilers**
Flashes by Tim O'Roarke was an enjoyable read for me as there was a lot to like about it.
One: the voice. MC Charley has a great voice that is easy to read and reflects her personality well, aiding the reader in an instant connection for a fast paced read. She also has issues in the form of what she calls Flashes, but are actually some kind of post-cognitive 'visions' of people about to die. But her 'sight' has limitations—because she seems only to distantly-witness deaths of those who have died in the same way, on the same train line, in pretty much the same spot. These Flashes I found to be very well handled. The way they were woven into each scene, the transitions into and out of the Flashes were smooth and without fault. I always felt confident and comfortable with the author's ability, because I always knew exactly what was happening at any given time. Anyway, using her ability, Charley pairs up with a young, equally likable, and somewhat handsome policeman—Tom—determined to solve what he believes to be a murder and not the suicide it's initially pegged as. Having always been scoffed at by others for her 'gift' and very far from encouraged by her father, it takes a lot for young Charley to admit what she knows about the girl found on the train lines, and more for her to admit how she knows it. Admittedly and understandably sceptical at first, Tom eventually accepts that Charley's telling the truth, and Charley's relationship with the first person to ever believe her instantly begins to change.
This story isn't just told from Charley's POV, though, and Tom's voice, character, and perspective on everything that's happening is a great asset to this story, adding a lot. I really liked Tom's character—probably even fell for him a little bit myself—and I would love to read more about cases he needs to solve, ones that he will definitely appreciate Charley's help with.
Just as Charley eventually solves this one—but not until it's almost too late. Luckily for Charley, Tom isn't too far behind her in his sleuthing … but the 'can he reach her in time to save all that's good with the world?' question definitely keeps the reader on the edge of their seat to the finish line.
I do, however, have a couple of things that bugged me about this book, despite having enjoyed it a lot. 1) The murderer. I guessed who it was from very early on in the book—and I mean VERY early on. To the point I hoped it was just a red herring and something would happen to prove me horribly wrong. Admittedly, the author did throw in a breadcrumb trail for the reader to follow, leading to someone else, and I almost hoped for that to be the murderer just so I could rest assured that I hadn't spent the entire book having figured it out already, but alas, it wasn't the case. I'd got their number clear as day. 2) There was a bit of a blooper (I *think*) regarding the giving out as phone numbers. Because Tom gave Charley his phone number/card—and if she gave hers to him at any point, then I totally missed it. Yet, their first contact after their initial meeting is a result of him calling her—which jolted me out of the moment quite badly, because I had no idea how or when he'd gotten her number to do so. 3) The ending. Whilst the build-up to the 'how is this going to turn out?' was super-paced and exciting, the wrap up at the end of it seemed a little rushed. But those three complaints aside, I still enjoyed this one a lot, and really hope there may be more mysteries to solve for this duo in the future.
I would like to thank the publisher for providing me with a copy of this title in exchange for an honest review. This has in no way affected my opinion.
Rating: 3.5 stars