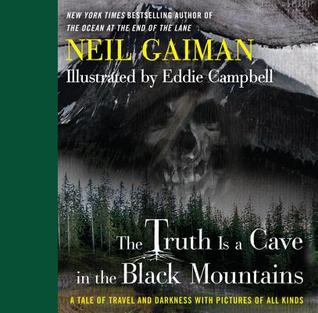 Title : The Truth Is A Cave in the Black Mountains
Author : Neil Gaiman
Pages : 80
Published : 17th June 2014
Publisher : Headline
Source : From Publisher
Beautifully illustrated by renowned artist Eddie Campbell, this is a four-colour edition of Neil Gaiman's award-winning novelette "The Truth is a Cave in the Black Mountains"- a haunting story of family, the otherworld, and a search for hidden treasure.



The text of The Truth Is a Cave in the Black Mountains was first published in the collection Stories: All New Tales(Headline, 2010). This gorgeous full-colour illustrated book version was born of a unique collaboration between writer Neil Gaiman and artist Eddie Campbell, who brought to vivid life the characters and landscape of Gaiman's story.
In August 2010, The Truth is a Cave in the Black Mountainswas performed in the concert hall of the Sydney Opera House to a sell-out crowd – Gaiman read his tale live as Campbell's magnificent artwork was presented, scene by scene, on large screens. Narrative and art were accompanied by live music composed and performed especially for the story by the FourPlay String Quartet.
My Thoughts :
The Truth Is A Cave in the Black Mountains tells us the story of two men taking a journey to find the mythical Misty Isle and the cave that is said to hold treasure, cursed treasure, but treasure all the same. Thus begins the story of a dwarf and a man searching for treasure and finding a lot more. Will they survive?
This book is unlike anything I've ever read and its both thanks to the story itself and the amazing illustrations that accompany the tale. When I first started reading, the tone of the story and the way its written reminded me of the
Seanchaí, Eddie Lenihan. I saw him once at a party and Ill never forget the stories he told, and its not even the stories, its the way they are told! He had a way of pulling you into the story and of making it come alive. The Truth is a Cave in the Black Mountains does the same thing.
Apart from Neil Gaimans writing, which by now everyone knows is amazing, the illustrations make the book so much better. They really make the story come alive. Its definitely a book every book worm should have on their shelves. Its a story of greed, of survival, of heartache and loss, of love and revenge. Its a book that you will open again and again simply to savour the writing and the pictures.
From its unique drawings to its darkly addictive story. The Truth is a Cave in the Black Mountains is a must have for everyone.