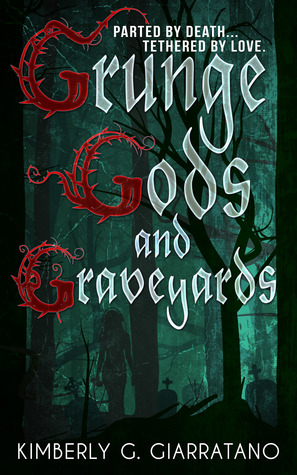 Amazon
Goodreads
Title : Grunge Gods and Graveyards
Author : Kimberly G Giarratano
Pages : 313
Published : May 31st 2014
Publisher : Red Adept Publishing
Source : From Author
Parted by death. Tethered by love.
Lainey Bloom's high school senior year is a complete disaster. The popular clique, led by mean girl Wynter Woods, bullies her constantly. The principal threatens not to let her graduate with the class of 1997 unless she completes a major research project. And everyone blames her for the death of Wynter's boyfriend, Danny Obregon.
Danny, a gorgeous musician, stole Lainey's heart when he stole a kiss at a concert. But a week later, he was run down on a dangerous stretch of road. When he dies in her arms, she fears she'll never know if he really would have broken up with Wynter to be with her.
Then his ghost shows up, begging her to solve his murder. Horrified by the dismal fate that awaits him if he never crosses over, Lainey seeks the dark truth amidst small town secrets, family strife, and divided loyalties. But every step she takes toward discovering what really happened the night Danny died pulls her further away from the beautiful boy she can never touch again.
My Thoughts :
Lainey is running through the woods to meet her new boyfriend Danny but little does she know that she is being observed. The Lady in Blue is right there with her the entire time. Lainey couldn't be happier than she is at the moment, she is finally dating Danny since last night even though he is technically still dating Wynter. She is just about to leave the trees to meet Danny when she sees Wynter, the schools most popular girl, leave his house. Wynter sidles up to Danny and kisses him and worst of all Danny seems to be kissing her back.
Lainey is devastated. Was it all a trick? Does Danny really like her or was he playing her? She turns to run away but Danny sees. He takes off after her. They run into the road and Danny begs Lainey to listen to him. She turns to him but suddenly there's a car. Danny doesn't have time to move and the car knocks him down and keeps going. Lainey runs to Danny and just as she cradles his head, he dies.
Lainey now has to face up to the fact that everyone blames her for Dannys death. Wynter has labeled her a stalker and told everyone that Danny was running away from her and thats why he got killed. Laineys life is spiraling out of control and worst of all she seems to be seeing Dannys ghost. What is happening her? How can she clear her name and help Dannys ghost rest?
Well first things first, isn't that cover awesome!! I love the font and the creepy atmosphere of it. It totally catches the eye.
This book took me by surprise. Ill admit that I hadn't heard of this till the author approached me to review it. I was still hesitant to read it because I wasn't sure if it would be the kind of book I like. I thought it would be heavy on the music but it wasn't. I'm so glad I read it because its a gem of a book.
I loved the setting of Grunge Gods and Graveyards. Its set in 1997 which to any one over 30 will be able to relate to. I was a teen at that stage and I remember some of the bands etc that are mentioned. It was quite nostalgic. Lol. A lot of books I read at the moment are set in the future so it was a nice change.
The characters as well are something I loved. Lainey is a typical teen, who loves boys and music. Her life is tough since Danny died but she tries to put on a brave face. She loved Danny and its extra hard on her because everyone blames her. Then to top it all off, she starts seeing ghosts!
Then we have Danny. He is a popular musician with his own band. He has been dating Wynter for a year but has been crushing on Lainey. He is tied to the town of his death and knows the only way he will rest is if they can solve his death. Was it accidental or murder?
Lainey and Dannys relationship is the only problem I had with this book. Now don't get me wrong, I loved seeing their relationship blossom but the problem I had was that we didn't get a feel for what Lainey or Danny felt for each other before the tragedy. All of a shot they are at a concert and Danny confesses he likes her, even though he is dating Wynter, next thing we know they are going out then bam he is dead! I felt like if there was more of a back story to their relationship then this book would of been perfect. Other than that I loved Grunge Gods and Graveyards.
Overall Grunge Gods and Graveyards is a perfect blend of mystery and romance. When I started I found it hard to put down because I had to see what happened next. The last half of the book was phenomenal, fast paced and incredibly intense. I had an idea of who was involved but when it came to the big reveal I was wrong. The author throws enough clues that you think you know who did it but doesn't give away enough!! Lol. Its a blast from the past and I thoroughly enjoyed it. I will definitely be keeping an eye on this author.