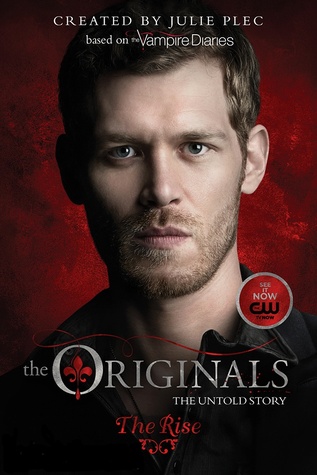 Title : The Originals: The Rise
Author : Julie Plec
Pages : 352
Published : Febuary 5th 2015
Publisher : Harlequin Books
Source : Netgalley
Purchase : Amazon / iTunes
Family is power. The Original vampire family swore it to each other a thousand years ago. They pledged to remain together always and forever. But even when you're immortal, promises are hard to keep.
Arriving in New Orleans in 1722, Original vampire siblings Klaus, Elijah and Rebekah Mikaelson believe they've escaped their dangerous past. But the city is lawless, a haven for witches and werewolves unwilling to share territory. The siblings are at their mercy…especially after Klaus meets the beautiful and mysterious Vivianne. Her impending marriage is key to ending the war between the supernatural factions—and Klaus's attraction to her could destroy the uneasy alliance. As Elijah works toward securing a piece of the city for his family, and Rebekah fights her unexpected feelings for a French captain, will Klaus's volatile desires bring their world crashing down—and tear them apart for good?
My Thoughts :
Well this was just awesome!! I loved Klaus and Elijah since they appeared in The Vampire Diaries and when they got there own series I was thrilled! Then to hear that they have their own books, well lets just say I squeeed a little ;)
The year is 1722 and the Mikaelson family is trying to find somewhere to make a home. They have been on the run from their father for a long time and need to down some roots. They arrive in New Orleans and decide to stay. The only thing is there are witches and werewolves already in the city and the vamps have to keep a low profile. Well 9 years pass and Klaus has had enough with the low profile, he wants more. Elijah makes it his business to find a home and make it safe, but with Klaus as your brother and Rebekah as your sister, you know nothing will run smoothly!! Klaus ends up falling for a witch who is to marry a werewolf and Rebekah falls for French Army captain, who isn't all he seems! Can Elijah secure a home and keep them safe?
Where to start with this?? I suppose we will start with Rebekah. She is as stubborn and fickle as always. She falls in love quickly but that's part of her charm. She goes off by herself to try to secure the armies help in getting rid of the werewolves but ends up falling for the captain. She longs to be with him but will she be able to? He seems to have an inkling that there are some supernatural beings in the world but doesnt know that Rebekah is one. He thinks she is a widow who lost her husband to bandits.
Then we have Elijah being the stoic brother he always is. He is always so put together and regal that its hard not to love him. He always seems to be mopping up both Klaus and Rebakahs messes and this is no different. He wants to find a house and protect it so they have somewhere safe to stay. He does everything he can to try to please everyone. He has always been one of my favourite characters.
Now onto Klaus!! He is as charming as ever. He is such an anti hero but it's so hard not to fall in love with him. He is so bad but shows hints of being good. He falls for Vivianne, an half witch/ half werewolf who is to marry the head werewolfs son, in an effort to gel the two supernatural covens together. He falls hard and deep for her and tries all he can to make her see that she will be better off with him. He is selfish, only thinks of himself and doesn't care what consequences his actions have but he is such a lovable baddy all the same.
Anyway, while reading this, it played out as an episode of the show in my head and I loved it. I could picture the setting and the characters perfectly. I loved that its set in New Orleans as well. Its steeped in so much history that you could almost imagine that witches, vampires and werewolves exist there. This book, while being short is action packed and fans of the series will love it. I love that these characters were given there own books and I really look forward to reading more from them, especially Elijah!!