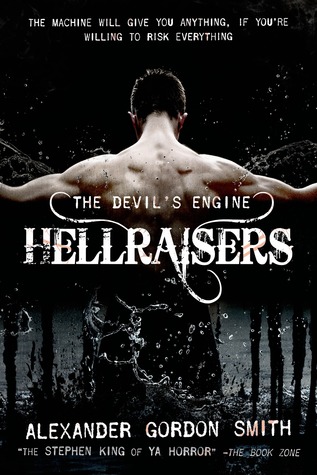 Title:
Hellraisers
Series:
The Devil's Engine #1
Author:
Alexander Gordon Smith
Pages: 352
Published: December 1st 2015
Publisher: Farrar, Straus and Giroux
Source: Netgalley
The Devil's Engine is a machine from the darkest parts of history. It can make any wish come true—as long as you are willing to put your life on the line. When a sixteen-year-old asthmatic kid named Marlow Green finds himself trapped in a surreal firefight against nightmarish creatures in the middle of his New York City neighborhood, he discovers a squad of secret soldiers dedicated to battling the legions of the Devil himself. Faced with monstrous apparitions, ancient weaponry, and his own hellishly tedious high school existence, Marlow submits to a demonic deal with the infernal device that enables him to join the battle—if it doesn't kill him first.
My Thoughts:
I'm a big fan of this authors other series, so when I heard he was bringing out another book I was thrilled. This one sounded unique and awesome and I couldn't wait to get my hands on it. :)
Trouble seems to find Marlow Green no matter where he is, so naturally he seems to be in the wrong place at the wrong time and sees some impossible things happening. He ends up being rescued but that's when his life changes irrevocably. Can he get himself together enough too battle the forces he needs?
One thing about this author is his ability to write a flawed hero, one whom you can't hep but root for, and this is no different:
At the start of the book, we see Marlow as a troubled teen. He has been kicked out of every school he's been to, he isn't one to shy away from trouble and he drinks. But as the story progresses, we meet the real Marlow. The tough, loyal and (kinda) brave Marlow. He hasn't had an easy life, his mother is an alcoholic, his brother died and everyone seemed to forget about him, his asthma has plagued his life, he's never really had any friends and his life has sucked. Marlow starts off as a hard to like youth but he really grows as the book goes on!
The plot was extremely fast paced and intense. We are brought into the action right from the start and it's pretty much nonstop the whole way through. I was glued to the pages. I also loved the concept of the book, it's unique and quite fascinating. The Engine can grant you any wish you want, but at a steep cost! You get 666 hrs with your wish and if the engineers can't terminate your contract within that time, then the demons come for your soul. It's up to you what you do with your abilities, some use it for good and some for evil.
In all this was an amazing read! The author has created a fantastic new world and I, for one, can't wait to jump back into it. This is the first in the series and if this sets the pace for the rest of them, well then we are in for a treat!! An action packed, intense and unique book and one I can't recommend enough!