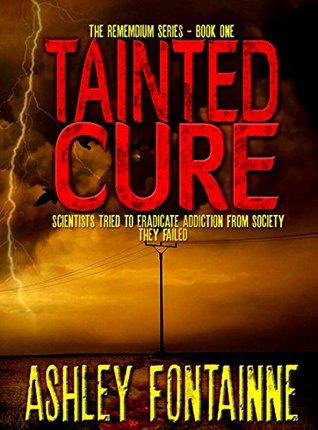 Title:
Tainted Cure
Series: The Rememdium Series Book 1
Author:
Ashley Fontainne
Pages: 168
Published: March 11th 2016
Publisher: RMSW Press
Source: From Author
Scientists attempted to find a cure for addiction. They failed.




Dr. Everett Berning, a leading researcher into the causes of addiction in the brain, spent ten years of his life dedicated to one thing: finding the cure. Recruited after a strange encounter with the enigmatic Dr. Roberta Flint, Director of Research on Code Name: Rememdium, Dr. Berning is sent to work in a secret lab as part of the research team.




When the moment the scientists waited on for years arrives, Dr. Flint and her team are ecstatic.




Unfortunately, not everyone in the world feels the same way.




Benito San Nicholas isn't ready to give up his lucrative business. When the news of a cure arrives on his doorstep from a crooked informant, Benito enlists the help of other drug lords from around the world to stop the cure from hitting the streets and destroying their livelihoods.




What happens next ends up uniting the globe--just not the way society ever intended or hoped.
My Thoughts:
Here's me thinking Ashley Fontainne can't get any better, yet she proves me wrong yet again!! In her first foray into the Zombie genre, she has created a different take on how the Zombies came to be. This author never fails to surprise me in how good she is, she has dipped her toes into multiple genres and never failed to deliver!
So in this, Dr. Everett Berning is recruited to help find a cure for addiction. Years and many trials later, the cure has been created, and best of all it works. After successful human trials, it's ready to be unleashed, but someone is intent on not letting it. Benito San Nicholas, is a drug lord and doesn't want the cure being distributed. He enlists some help and gets the cure, but what happens to it in his hands is devastating and the whole world suffers.
Everything about this book rocked. I loved the idea of the cure for addiction being found, only for it to fall into the wrong hands and being changed. It's definitely different to the virus angle and actually believable. Plus Ashley adds in her twists and turns at every opportunity. I particularly thought it was good what happened to Benitos girlfriend!!! At first I was like, how in the world could she get sick, did I miss something, then when it was revealed, I was like, oooooh! Lol.
Anyway, once again, this author has created an amazing start to what's sure to be an equally, if not better, series!! The ending will leave you wanting the next book right away and leave you wanting to check out more by this extremely talented author. This isn't just a Zombie book, this is so much more and I urge you to try it!