Hi guys, welcome to another Blogiversary feature! This time around I have author H.D Smith and she is offering up one copy of any of her books (eBook or Audio). Check out her books below and her awesome interview, then enter to win!
Claire, the Devil's assistant, knows very little about the world she was dropped into five years ago, when she inherited her mother's unpaid debt to the Demon King. She certainly didn't expect to be a contender for the Fallen Queen's throne, a target for the Druid King's mafia, or a suspect in the murder of Junior, the Devil's oldest hell spawn.

In a last ditch effort to save her life and get out of her deal with the Devil, she sets out to solve Junior's murder only to be taken prisoner by the four most dangerous immortal hell spawn alive.
Not to be out done, the Pagan Queen Mab, claims Claire for entering her realm uninvited. She has an old debt to settle with her brother the Devil. Taking Claire from him after losing her years ago is just icing on the cake.
Will Claire win her freedom, and save herself from the Devil? Or be trapped by Mab forever?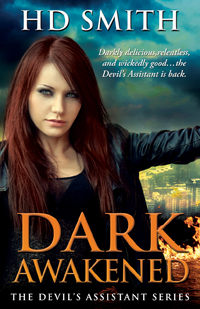 Last spring Claire's seemingly normal—if not totally screwed up—life was tossed on its head. For five years she'd been one of the damned—a human that knows the truth about the otherworldly among us. She'd worked for The Boss—the Demon King himself—as his administrative assistant, handling everything from early retirements, to Maintenance's incessant requests for dental.
No one gets dental.
Then she walked into Purgatory—totally not her fault—went back in time, and awakened powers she never knew existed. Now Claire has a prophecy hanging over her head, a diamond ring hidden in her sock drawer, and the blood of a long dead royal running through her veins.

And it's only going to get worse.
Her vow to live free or die takes a serious hit when she's forced back under The Boss's protection. Of course, there's no protection from fate, or the Bounty Hunter sent to deliver her to Purgatory. And as if being "the girl" in the prophecy wasn't enough, Claire soon discovers there are three other contenders for her role—two of whom want her dead.

Follow more of Claire's adventures in Dark Awakened, the second installment of the Devil's Assistant Series, to find out if she's lucky enough to escape with her life, or if she's just the first notch on the next contender's belt.
Last Spring, Claire was framed for the murder of Junior, the Devil's oldest hellspawn.
Last Summer, she reawakened the fourth realm, saved the world (after almost destroying it), and wound up with the worst job ever.

Now, Claire's been locked out of her realm, given an assistant that doesn't actually assist, and told to handle a small problem in Underworld that might just get her killed.

And to top it all off, Mab's made one of the contenders her untouchable. So, yeah, you could say Claire's having one of those days.
Follow more of Claire's adventures in Dark Forsaken, book 3 of the Devil's Assistant Series, to find out if Claire can defeat the latest contender, survive the quads, and replace the curator before Harry figures out she's stolen his blood.

Yesterday 12-year-old Charlie Parker would have given almost anything to see Keegan's Point, the island estate built by the reclusive billionaire Marcus Keegan. Keegan died the same year Charlie was born. His body and twenty passports were the only things removed from the island—leaving a mystery and the unanswered question, who was Marcus Keegan?
But that was yesterday. Charlie's biggest problem this morning was his presentation in fourth period. Since then he's been beaten up by a bully, he's lied to his mother, and he's been kidnapped by three total strangers. And, as if the day couldn't get any worse, no one even knows he's missing.
Nick, one of the strangers, is one job away from finding the lost treasure he's searched for his entire life. The plan is simple: go into Keegan's mansion and follow the cryptic clues to the prize. There's plenty of time, and his team is resourceful. He never expected that Charlie would overhear his plans or that he'd have to kidnap him to keep him quiet. Now there's only one way forward, and that means risking everything. Soon, Nick realizes that Charlie's involvement in his mission is the key to whether he'll succeed or fail—because there's much more at stake than a lost treasure.
From the author of the Devil's Assistant books, Keegan's Point is the start of a new adventure series where not all the bad guys are bad, where you just might find yourself rooting for both the bad guys and the good guys as they work together to survive.
Fourteen-year-old Matty Dunmore and his gang live in Nowhere, NJ, and their world of mobsters and crooked cops is about to be turned on its head. When Matty—a runner for the local Mob boss, Mr. Hill—is attacked and robbed during a delivery, he soon discovers the package he was carrying wasn't the only one taken. The boys are told to keep watch for anything suspicious, but after the death of a higher up in the organization, their surveillance is discovered by one of the traitors. Now the friends must make a choice—tell Mr. Hill and risk the safety of their families, or keep quiet and live.
Flash forward to the present. Matthew Larson is now a legitimate businessman in Florida, but his past is about to catch up with him. No one—not even his wife and son—know the truth about who he was. The Matt Larson they know is a loving husband and father, not a ghost named Matty Dunmore with a secret so big it could get Matt and everyone he loves killed. Matty needs to stay buried in the past if Matt has any hope of surviving in the present.
When his former gang of friends, still tied to the Mob, discover he's alive, Matt's world comes crashing down around him. His son, Pete, is kidnapped by the new Mob boss in Nowhere—his former friend Lenny. Matt has no clue why Lenny would do this, but for some reason Lenny's determined to make Matt pay. The stakes are high, life and death decisions are made at every turn, and the sins of Matt's father threaten to doom him to a similar fate. Is there anyone left he can trust?
Author Interview:
Where do your ideas come from?
Life experiences and the people, things, places, and events around me.
How do you develop your writing ideas?
I'm a Discovery Writer (or Pantser). I do a minimal amount of plotting (big picture, not detailed) and then start writing. I learned early on that too much plotting will pull me out of the story and not make me want to write it. Book 4 in the Devil's Assistant series has been more challenging because it is an ending of sorts for a major character arc and it requires a lot more planning to make sure all the loose ends are tied up.
Where do you find inspiration for your characters?
I don't envision taking my characters out to lunch (they aren't that real), but I do know them well enough to put them in situations that aren't expected and know what they would do or say. None of my characters are people I know, most start out as a concept … I need a villain, then they grow as the writing starts to take shape. I have a lot of characters and they all have their own goals.
When did you first realize you wanted to be a writer?
After starting my first "real job" after college, I worked for a year and then decided to get my masters degree. After that, I thought, is this it? I've always had hobbies, but writing really came out of nowhere. I started (and didn't finish) two books before I figured out I needed to toss out any kind of outlining. After that it was much easier, but there is always room to grow. I'm still growing as a writer.
What makes you unique as a writer?
I'm not sure anyone is truly unique, but my style in writing is not for everyone. I tend to have complicated plots, lots of characters, and a little chaos. My stories have romantic elements, but are not anything close to romance (although book

5 may

try to be a romance). Some romance readers like the series, but others don't. I have a decent number of male fans, but that may be because of the lack of romance.
How has your writing career changed since you started?
When I first started writing, Indie publishing was more vanity press than anything else, and of course everyone wanted a book contract with a NYC agent. Now there are lots of small press options (although I don't recommend most of them), robust indie publishing options, and the big five. My first book was picked up by a small press, but I have sense gotten my rights back and now publish my own, which I prefer.
What are your writing goals for the next year?
To finish book 4 and get it released before the end of the year!
Name the five biggest distractions from your writing.
Do you hear from your readers much? What kinds of things do they say?
When is book 4 coming out ;)



HD Smith has been writing for over ten years. She is a software developer by day, working for an awesome cruise line in Celebration, FL.
HD grew up in South Carolina, but has called the Sunshine State home since 1997. She has Computer Science degrees from Clemson University (BS) and Florida Institute of Technology (MS). Her other hobbies include painting and screen printing. She enjoys creating t- shirts inspired by the places in her books. For more information, visit HD's website at http://www.hdsmithauthor.com/.
a Rafflecopter giveaway