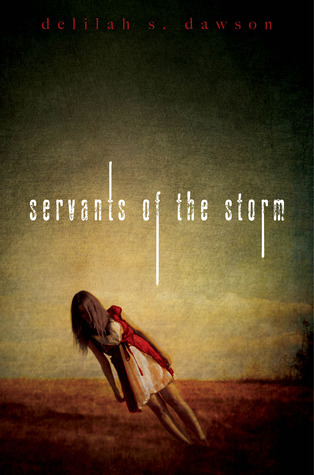 Title : Servants Of The Storm
Author : Delilah S Dawson
Pages : 384
Published : August 5th 2014
Publisher : Simon Pulse
Source : Edelweiss
A year ago Hurricane Josephine swept through Savannah, Georgia, leaving behind nothing but death and destruction — and taking the life of Dovey's best friend, Carly. Since that night, Dovey has been in a medicated haze, numb to everything around her.
But recently she's started to believe she's seeing things that can't be real ... including Carly at their favorite cafe. Determined to learn the truth, Dovey stops taking her pills. And the world that opens up to her is unlike anything she could have imagined.
As Dovey slips deeper into the shadowy corners of Savannah — where the dark and horrifying secrets lurk — she learns that the storm that destroyed her city and stole her friend was much more than a force of nature. And now the sinister beings truly responsible are out to finish what they started.
Dovey's running out of time and torn between two paths. Will she trust her childhood friend Baker, who can't see the threatening darkness but promises to never give up on Dovey and Carly? Or will she plot with the sexy stranger, Isaac, who offers all the answers — for a price? Soon Dovey realizes that the danger closing in has little to do with Carly ... and everything to do with Dovey herself.
My Thoughts :
When Hurricane Josephine hits, Dovey and her best friend Carly are at Carlys house. When the downstairs start to flood bith girls have no choice but to go into the attic. When they get there they huddle together to wait out the storm but suddenly a tree comes through the roof. Carly is hit and falls into the swirling waters below. Dovey is devastated by the loss of her BFF and after the funeral has to go on antipsychotic drugs.
The drugs leave her numb to everything and for the last year her life has been like living in a fog. When she is in her favourite coffee shop she looks up and suddenly sees Carly. But it cant be because Carly is dead!! Dovey puts it down to the pills and decides she needs to come off them. Now she is off the pills Dovey starts seeing weird stuff every where. Who is the fox faced girl? Why is she seeing Carly and what is Carly trying to tell her. Dovey needs to figure things out before the bad things notice her!!
Well this was certainly not what I expected. The first thing that drew me to Servants Of the Storm was the cover. Its very creepy and intriguing, but the blurb made me want to read it even more. When I saw that Dovey was seeing her dead BFF the first thing I thought was Zombies, but it has nothing to do with them!! Its Demons, demons and more demons!!
I loved Dovey. When she loses Carly she is devastated but when she is at the funeral she really loses it. Looking into Carlys casket she sees something thats not Carly and starts screaming. Everyone thinks its simply because she just lost her BFF so Dovey is put on medication. Her life is dull for a full year until she decides its time to come off the tablets. Her courage and bravery shine through the whole way through the book. She does what needs to be done no matter the cost to her.
Isaac was the mysterious tall dark and handsome stranger!! He is a campion and even though he is told to stay away from Dovey he cant. He knows the only way he will be free is if he helps her find the answers she needs.
I loved Baker!! He was so sweet and brave and kind. He was the whole package. He was friends with both Carly and Dovey since they were small and has always had a soft spot for Dovey. He will do anything to help her even though at times he thinks she is talking crazy. He is always there for her.
Now despite liking both male characters, I hate love triangles!!! I loathe them and usually take off some stars off the rating if a book had one, BUT I didn't mind this one so much. Doveys feelings aren't so clear cut and because her head was so screwed up on the medication she hasn't a lot of interest in finding love at the moment. The fact that she doesn't place an emphasis on Isaac or Baker was OK with me.
Overall Servants Of the Storm was one heck of a ride. A non stop thrilling, action packed, demon packed book!! I loved the concept of the Hurricane being more than it seems. I loved the setting and the whole creepy atmosphere of the book. From the very first page you are transported to a dark and dangerous world where there's something scary round every bend. As for the ending!!! It was one heck of a twist and I so hope there's more to come from this series!