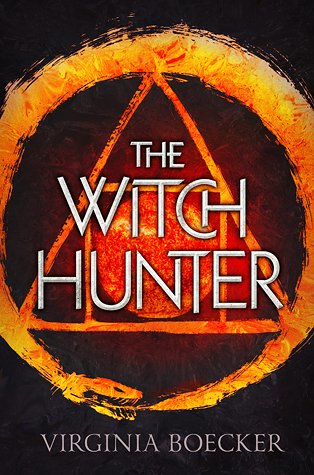 Title:
The Witch Hunter
Author:
Virginia Boecker
Pages: 368
Publisher: Little Brown Books
Published: June 2nd 2015
Source: Netgalley
Purchase: Amazon/ Book Depository
The magic and suspense of Graceling meet the political intrigue and unrest of Game of Thrones in this riveting fantasy debut.
Your greatest enemy isn't what you fight, but what you fear.


Elizabeth Grey is one of the king's best witch hunters, devoted to rooting out witchcraft and doling out justice. But when she's accused of being a witch herself, Elizabeth is arrested and sentenced to burn at the stake.




Salvation comes from a man she thought was her enemy. Nicholas Perevil, the most powerful and dangerous wizard in the kingdom, offers her a deal: he will save her from execution if she can break the deadly curse that's been laid upon him.




But Nicholas and his followers know nothing of Elizabeth's witch hunting past--if they find out, the stake will be the least of her worries. And as she's thrust into the magical world of witches, ghosts, pirates, and one all-too-handsome healer, Elizabeth is forced to redefine her ideas of right and wrong, of friends and enemies, and of love and hate.




Virginia Boecker weaves a riveting tale of magic, betrayal, and sacrifice in this unforgettable fantasy debut.
My Thoughts:
An intriguing and magical read.
Character wise, They were are well written and developed and there are quite a colourful cast of them but let's start by saying that I loved Elizabeth! She was smart, sassy and strong. She is a member of the kings elite Witch hunters and is one of the best. But her life is changed completely when she herself is accused of Witchcraft and sentenced to die. Despite that and being half starved in prison, Elizabeth keeps her spirit and stays herself. She is one determined and spunky girl!!
Then we have Nicholas Perevil, the notorious and dangerous Wizard who is top of the most wanted list. He comes to save Elizabeth, but at what costs? He wants her to take on a dangerous mission to break the curse that plagues them.
John was by far my favourite. He is sweet, caring and an all round amazing guy. I loved seeing his and Elizabeths relationship grow because they are so sweet together.
Plot wise, it was fast paced and intriguing. The world building was amazing and I loved the authors ability to grab the reader with her descriptions. There are plenty of twists and turns that will leave you breathless and enough intrigue that will have everyone turning the pages to see what happens next.
In all this is a magical and mesmerizing read. From it's captivating story to it's engaging writing, this is a must read and I for one, am really looking forward to more from this world and from this author.