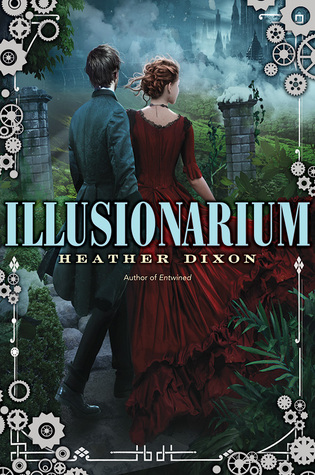 Title: Illusionarium
Author: Heather Dixon
Pages: 368
Published: May 19th 2015
Publisher: Greenwillow
Source: Edelweiss
Purchase: Amazon/ Book Depository
What if the world holds more dangers—and more wonders—than we have ever known? And what if there is more than one world? From Heather Dixon, author of the acclaimed

Entwined

, comes a brilliantly conceived adventure that sweeps us from the inner workings of our souls to the far reaches of our imaginations.




Jonathan is perfectly ordinary. But then—as every good adventure begins—the king swoops into port, and Jonathan and his father are enlisted to find the cure to a deadly plague. Jonathan discovers that he's a prodigy at working with a new chemical called fantillium, which creates shared hallucinations—or illusions. And just like that, Jonathan is knocked off his path. Through richly developed parallel worlds, vivid action, a healthy dose of humor, and gorgeous writing, Heather Dixon spins a story that calls to mind

The Night Circus

and Pixar movies, but is wholly its own.
My Thoughts:
An imaginative and thrilling read.
This was one of the books that you immediately add to your list simply because the cover is stunning and then when you read the blurb you just know you will love it. While I may not have loved it, I did really like it.
I absolutely loved the world building of this book. It was amazing. It's set in London but spans an alternate London too. When Jonathans London becomes ravaged by a plague that kills only women, he knows that he needs to do what he can to find a cure. He puts his trust in his dad but his father is unwilling to lower his morals and take part in inhaling Fantilium, a substance that creates vivid illusions that allows a person to manipulate the world to their desires. If they study the plague while under fantillium, they can speed up time to see can they find a cure, while only seconds pass in real time. The draw back of fantilium is that it causes one to become addicted and also causes malformations to those who inhale it. Now you would think that would be enough but not for Heather Dixon, she adds in an alternate London that Jonathan travels to to get the cure. There is so much depth and layers to the world that it's hard not to love.
Character wise, Jonathan is a worthy hero. He is an ordinary boy with a talent for creating amazing illusions. He knows that he has to put aside his morals to save his sister and mother, no matter what his father tells him. I think though that my favourite character was the
Lieutenant Lockwood. He is uptight, a typical hard faced soldier but there is also so much more to his character.
Plot wise, it was relatively fast past, though it did take a while to get fully immersed into.
Anyway, this was a beautifully written and vividly described read and one I know that if I read it again, I'd find new things about it. Heather Dixon puts so much into her story and it shows.