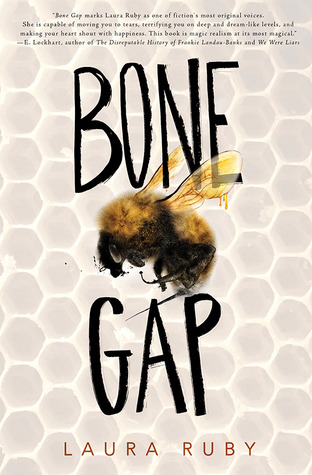 Title : Bone Gap
Author : Laura Ruby
Pages : 368
Published : March 3rd 2015
Publisher : Balzer + Bray
Source : Edelweiss
Purchase : Amazon/ Book Depository
Everyone knows Bone Gap is full of gaps—gaps to trip you up, gaps to slide through so you can disappear forever. So when young, beautiful Roza went missing, the people of Bone Gap weren't surprised. After all, it wasn't the first time that someone had slipped away and left Finn and Sean O'Sullivan on their own. Just a few years before, their mother had high-tailed it to Oregon for a brand new guy, a brand new life. That's just how things go, the people said. Who are you going to blame?




Finn knows that's not what happened with Roza. He knows she was kidnapped, ripped from the cornfields by a dangerous man whose face he cannot remember. But the searches turned up nothing, and no one believes him anymore. Not even Sean, who has more reason to find Roza than anyone, and every reason to blame Finn for letting her go.




As we follow the stories of Finn, Roza, and the people of Bone Gap—their melancholy pasts, their terrifying presents, their uncertain futures—acclaimed author Laura Ruby weaves a heartbreaking tale of love and loss, magic and mystery, regret and forgiveness—a story about how the face the world sees is never the sum of who we are.
My Thoughts :
I finished this book a few weeks ago and have only now gotten around to writing the review, I know, bad blogger ;) When I finished this my first thoughts were "I have no idea if I should rate this 5 stars or 1 star because this book was frustratingly amazing yet I'm still not sure what happened with the bad guy!! I'll leave it at 4 stars till I gather my thoughts!" Well that was a few weeks ago and to be honest, I'm still not sure what to rate it but I think I'll stick with 4 stars because this book was amazingly written but ultimately confusing.
Character wise we have a few people that the book revolves around. We have Finn and Sean O' Sullivan first. Sean is Finns older brother and also his guardian. My heart broke for these boys a lot because their mother up and left them alone. Sean had a bright future ahead of him but had to put it aside to look after Finn. Finn is an odd ball of sorts. He sees things differently than normal people, which I loved finding out about as the story progressed. He is picked on and beaten up a lot and my heart broke for him. Their lives change when they find Roza in their shed.
The enigmatic Roza is a mystery to the boys. They find her in their shed and it looks like she was beaten up. She doesn't say much to them but from what they can gather is that she is on the run from a man, but who is he? Roza doesn't trust easily, she has learned that men will only use her for her beauty. Slowly she learns that Sean and Finn are trustworthy and she ends up opening up to them. Sean finds himself drawn to her and wants to protect her. Just as their friendship blossoms, Roza torn from their lives. People think she up and left just as suddenly as she appeared, but Finn knows the truth. He saw someone take her from the cornfields, but when he can't describe him, everyone thinks he just made it up. Who took Roza and can Finn make anyone believe?
Plot wise, I'm not even sure what to say. It was often times confusing but not in a totally bad way, if you can understand that!!! For the most part it's a mystery but it's also a fantasy of sorts. The fantasy element comes in towards the end. We get to see the book from Finns POV and also Rozas one. I loved finding out about how she ended up in Bone Gap and who the mystery fellow was (even though I'm still not sure who he was!!)
I loved Bone Gap as the setting because it's such an odd place. The people describe it as having Gaps that people slip through, because so many people seem to go missing. The whole place just felt odd.
The romance was so sweet and heartwarming. I loved seeing both sets of people fall for each other but especially Finns romance. My heart swelled for them.
Anyway, Bone Gap was a beautifully written, imaginative and unique read and one I know so many people will love. As I said earlier, its a frustratingly amazing read but one that will captivate you. The mystery and creepiness of the bad guy and the tender romance will have you turning the pages quickly. This is a story that will stay with you long after you finish it, I finished it weeks ago and everything is still fresh in my mind! I urge everyone to give it a try, you won't be disappointed!