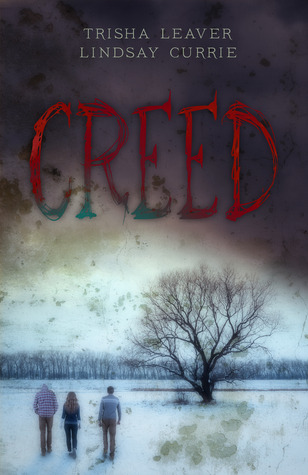 Title :
Creed
Author : Trisha Leaver and Lindsay Currie
Pages : 288
Published : November 8th 2014
Publisher : Flux
Source : Netgalley
Three went in. Three came out. None even a shadow of who they once were.
When their car breaks down, Dee, her boyfriend Luke, and his brother Mike walk through a winter storm to take refuge in a nearby town called Purity Springs. When they arrive, the emergency sirens are blaring and the small farming town seems abandoned. With no other shelter, they spend the night in an empty house.
But they soon discover that not everything in Purity Springs is as it seems. When the town's inhabitants suddenly appear the next morning, Dee, Luke, and Mike find themselves at the mercy of the charismatic leader, Elijah Hawkins, who plans to make Dee his new wife. Elijah's son, Joseph, offers to help them escape . . . but the price of his help may be more than Dee and her friends can bear.
My Thoughts :
When Dee decides to treat her boyfriend, Luke, to a weekend away for their anniversary, she has no choice but to drag Mike along. Lukes' brother is part of the cover up for their parents. Despite stopping for food, all three forget to fill up with gas. When the car fails, they decide to walk to the nearest town and get help because a storm is coming in.
When they arrive in Purity Springs, there are emergency sirens blaring and the place is deserted. Something doesn't feel right but all three continue on to see if anyone is still there. The place is feeling creepier by the second as they see row upon row of houses that are the exact same!! Everything is the same right down to the flower pots. Dee doesn't want to stay but with the snow coming down they have no choice but to stay in one of the houses and ride the storm out.
As they see more of the house they are staying in, they know that something isn't right. They find things that make them shudder and what looks like a death certificate but with no date of death on it yet!! They learn that all is not what it seems but will they make it out of there alive?
The cover was the first thing to grab me when I saw it. It looks so creepy!!! Then when I read the blurb I knew I had to read this. I love a good creepy read, one that's not too gorey or scary but still gets your heart rate pumping!! Creed had just the right amount of everything to be that book.
The action starts pretty much from the very first page. The three teens are heading to a concert, and kids being kids, forget to get gas. (I admit that I've done that a few times myself when i was younger). From the second they arrive at Purity Springs you can feel that the town isn't right. The authors created an extremely eerie and disturbing town!! I felt drawn into the story and could feel the fear of the characters. You just knew that things were wrong but I had no idea how wrong they were!!
Character wise, we have Dee who has a dark history. She was abused by her father and went from foster care to foster care until landing with the couple that have her now. My heart broke for her as her story unfolds and then the poor girls lands in a town with a nutcase who wants her to bear him a son!! She was broken but with Lukes help she was starting to rebuild her life. She was such a strong character that its hard not to like her.
Luke was such a sweetheart!! He is the only one that's knows the full extent of Dees childhood and does all he can to protect her. I loved their relationship. Mike is Lukes brother and just along for the ride. He is argumentative, tough and funny but he loves Luke and will do anything for him.
Then we have Joseph. He is weird but when we hear his story and see what he has been through, your heart just goes out to him. It was hard reading about what his life is like and the authors aren't afraid of making it bad with a capital b!!! It really cut through me :( We also have Elijah. He is one bad Bad Guy!! I hated him. He is the leader of Purity Springs and everyone loves him. He has the face of an angel but he is the devil. What he does is despicable but to him and his followers, he does no wrong. There were definitely colourful characters in Purity Springs!!
I have one thing that I didn't like about Creed, which is why its 4 stars instead of 5, and it was the ending. It was so abrupt and infuriating!! I honestly thought I was missing pages but I wasn't. When I finished I was like, wait what!!! Nooooo. It cant end like that!!! Lol.
All in all though Creed is a disturbingly creepy, tense read but one that will hook you from the start. It had me shuddering and crying along with the characters. Its the first book in a long time that made me feel things so intensely. I felt fear, loathing, pity and heartache all in the space of a few pages. Creed is a must read but be prepared to have your emotions played with because the authors take no prisoners!!