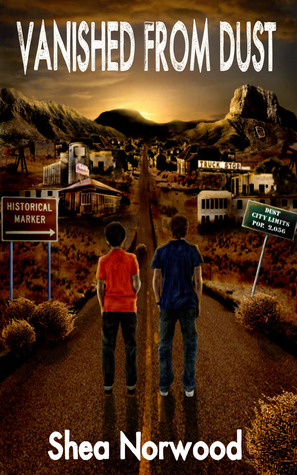 Title :
Vanished From Dust
Author :
Shea Norwood
Pages : 321
Published : September 20th 2013
Publisher : Dust Devil Press
Reviewed by Ailsa
The Blurb (taken from Amazon.co.uk)
"
A chill runs through his skin as the phantom appears.
He sees them everywhere. . .
Eric Stark is not insane. Or at least he doesn't think so. He wishes everyone in Dust, Texas, felt the same way. But that's not going to happen since the whole town thinks he's crazy. Why didn't he keep his mouth shut?
No one understands. Eric is alone as he battles his sanity in a town of tormenters. Suddenly a new friendship emerges after the new kid, Kyle Barrett, moves to town. Eric reluctantly reveals his secret. Is it a curse or a gift? He isn't certain, but with Kyle by his side he finds the courage to seek the truth.
They soon realize that something sinister is descending on the residents of Dust. Is it caused by Eric's phantoms or is it something else? Is it connected to the mysterious death of hundreds of townspeople over sixty years ago? One thing is certain—only Eric and Kyle can save them.
They set out on a heart-pounding adventure and find themselves transported to a disturbed and deserted version of their small southern town. They quickly discover that this new world has mysteries of its own to uncover. What they find could prove more than they bargained for, and it only leads to more questions. Eric and Kyle must face a horrifying fact—they may never get out alive.
"We're gonna die here," Kyle muttered.
"I don't believe that," Eric said. "And neither do you."
Will they survive their encounter with these dark and mysterious beings?
Will they find a way back home?
Or will they be lost forever?
"
This is a story about a fourteen year old boy from Texas, called Eric. Eric isn't your 'usual, normal' child and is constantly bullied by others at his school. One day he is being beaten by a bully when the new boy at school, Kyle steps in to defend Eric. From this point on they become instant friends, but Eric is hiding something from his one and only friend.
Eric is different. He can see and communicate with ghosts.
One night (while Kyle is sleeping over at Eric's) they decide to play 'Knock Knock' when they should be in bed. Once they know Eric's parents are asleep they sneak out and start knocking on neighbours doors and then hide so they can watch to see if anyone comes out. When one neighbour answers the door holding a shotgun, this scares them so they decide to run.
While running a safe distance from the gun wielding neighbour, Eric notices a shadowy figure at the door of the abandoned theatre.
Soon they both come to the conclusion that there is something not right going on in their home town and they decide to try and solve it.
Eric convinced he did see something in the abandoned theatre, the pair decides to investigate.
While investigating, strange shadowy, dark beings appear around them. The questions I will leave you with is; Are they safe? Will they survive? And are they going to get to the bottom of the strange occurrences that has been going on in their hometown?
Eric is a very special child with an amazing gift that first presented itself at the age of eight, which unfortunately isn't understood by anyone which makes him an outcast. Having the ability to see phantoms/shadows/demons/dark creatures (depending on what you call them) means he has gone through a rather unpleasant childhood (only 14 at this point), which has included ridicule and beatings from bullies and having his parents sending him to a 'specialist'.
The book starts with Eric and his "friend" Josh walking to school together. This is not a friendship but is an arrangement set up by Eric's mum. Once they are far enough away, they go their separate ways.
Kyle is the new boy of the school and when he witnesses Eric being beaten, he steps in and defends him. Immediately, they realise they are similar in many ways (especially when it comes to creating mischief and playing video games) and become instant best friends. They become inseparable.
When they play their favourite mischievous game of 'knock, knock', Eric notices a figure standing inside the abandoned theatre in front of the door. At this point Eric has had it. The only other person who understands what he sees is the town drunk. This is when Kyle and Eric decide to investigate (Eric mainly wants to know once and for all if he is crazy like everyone thinks he is or whether what he is seeing is real).
Although, I found this book a little bit slow to start with, it most definitely picked up. I found the characters very likeable and a perfect match for one another, they were more like true brothers than just friends.
For a person who enjoys reading paranormal stories then this is a book you should try. All I will say is persevere as it definitely improves.
One thing I did find with this book to start with reminded me of the Bruce Willis movie "The Sixth Sense", but once the story developed it turned into something else (sorry don't want to spoil it so won't mention the other book it reminded of).
My personal rating would be a
3.5
only because the start was slightly slow but then when it picks up I would pump it to a
4
as it becomes' unputdownable'. Although this is aimed at young adults, I would personally say that it is suitable for YA and above. If you like paranormal then this is for you.