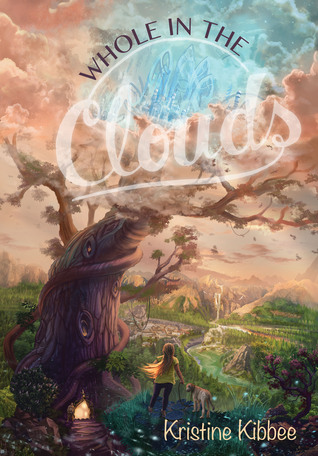 Cora Catlin is a misfit at best, and an outcast at worst. She feels out of place, as if everything is backward and something is missing from her life.




And then, on her first day of middle school, everything changes.




When Cora encounters an elfin stranger who speaks of the magical world Clouden, an entire kingdom hidden up in the sky, she can't wait to leave her boring, humdrum life behind. As Cora travels to her new home, where children sprout from the ground and rivers flow with chocolate, she finds herself transformed—and if that weren't enough, she has to adjust to royal parents, talking Pegasuses, a raging war, and an alluring love interest as well.




Exploring this new land, Cora unearths wonders and secrets beyond her wildest imaginings, discovering the meaning of true friendship, love, and what it means to feel whole.
Interview : This or That
Coffee, please! Although, I
'
ve recently come to the conclusion that I don
'
t like coffee as much as I like coffee-flavored sugar water with creamer.
Pirates! They are so gnarly!
PC, only because Mac if foreign to me. I imagine myself having to learn a whole new language in order to use a Mac. Who knows, if I took the leap, I may like it!
Facebook but again, that
'
s only because I
'
ve yet to give the alternative a try.
Ketchup. As I kid my Mom swears I used to dip up Ketchup with my French fries, lick it off and then dip again!
Why would anyone want Sherbet when they could have ice cream!?
Really, do you even have to ask? Dogs rule, cats drool. That is that.
Pencils have an eraser. In life, I always need an eraser.
Batman, but only because the movie industry has done such a thorough job of obliterating the character of Spiderman (though admittedly, Batman is close behind).
Early Bird but only because my job mandates it! I could swing either way if granted the opportunity. After all, birds of a feather . . . .
Fantasy, all the way. Reality is so boring! I have to inject a bit of fantasy into my everyday reality life, just to make it palpable!
Tour Schedule
Book Tour
Nov. 9-15th
November 9
Crossroad Reviews- Open of Tour
November 10
2 Bibliophiles Guide-Review
The Most A-Mazing Bookworm- Review
Cherry Mischievous- Promo
West of the Reader- Promo
November 11
Simplistic Reviews- Review
Sinamen Reads Romance-Promo
So many Books, So little time- Review
November 12
Be My Book Boyfriend- Review
Not tonight I'm reading- Review
NightWolf Book Blog- Promo
November 13
Ashley's Bookshelf- Promo
Hush Hush Revealings- Promo
Books, Books, And More Books- Review
November 14
GenGen's Book Blog- Review
Curling Up With A Good Book- Promo
November 15
Choco-Lattereader- Review
Crossroad Reviews- Review
Reader Under the Stars-Promo
About the Author
Kristine Kibbee is a Pacific Northwest native with a love of language, nature, and animals. Kristine's passion for creative writing began in her early youth and led her to Washington State University, where she earned a degree with a concentration in professional writing. Kristine has since had works published in The Vancougar, The Salal Review, S/tick Literary Review, and she is a featured columnist in the nationally syndicated magazine, Just Frenchies.
From the small town of Castle Rock, Washington, nestled among 22 acres of towering fir trees, Kristine relishes time spent outdoors with her two French bulldogs and one husband. She dreams of making the everyday world more magical with her fantasy novels.
Whole in the Clouds is her first middle grade novel.
a Rafflecopter giveaway
Disclaimer: Thanks to Goodreads and Amazon for the book cover, about the book, and author information.