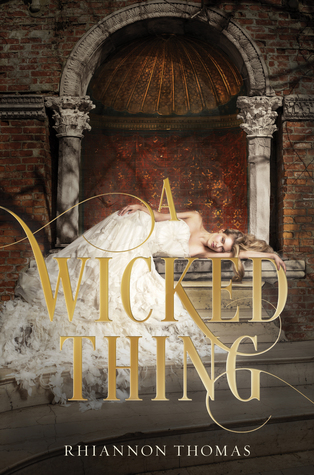 Title :
A Wicked Thing
Author :
Rhiannon Thomas
Pages : 352
Published : 24th February 2015
Publisher : HarperTenn
Source : Edelweiss
Purchase : Amazon/ iTunes/ BookDepository
Rhiannon Thomas's dazzling debut novel is a spellbinding reimagining of

Sleeping Beauty

and what happens after happily ever after.




One hundred years after falling asleep, Princess Aurora wakes up to the kiss of a handsome prince and a broken kingdom that has been dreaming of her return. All the books say that she should be living happily ever after. But as Aurora understands all too well, the truth is nothing like the fairy tale.




Her family is long dead. Her "true love" is a kind stranger. And her whole life has been planned out by political foes while she slept.




As Aurora struggles to make sense of her new world, she begins to fear that the curse has left its mark on her, a fiery and dangerous thing that might be as wicked as the witch who once ensnared her. With her wedding day drawing near, Aurora must make the ultimate decision on how to save her kingdom: marry the prince or run.




Rhiannon Thomas weaves together vivid scenes of action, romance, and gorgeous gowns to reveal a richly imagined world … and

Sleeping Beauty

as she's never been seen before.
My Thoughts :
I love any fairytale retelling but especially Sleeping Beauty ones! When I saw that this was one of them, well I jumped at the chance to read it.
A Wicked Thing was really good! It's the story of Aurora waking up to a strange man kissing her and telling her that she has been asleep for 100 years. Her world has changed so much and she is told that it's her destiny to change this world for the better. Her life has been made into a storybook and she is expected to do what she is told. But it seems that Aurora was changed the day the spell took her. She isn't like she was and she doesn't know what to do. With things moving at a rapid pace, Aurora needs to figure out whats best for the people, to wed the man she barely knows or to run!
Now for the first third or so of the book, it was very very slow. Aurora was moping and it felt like she was going to be a very weak heroine. She was doing what she was told even though she was battling everything internally. Thankfully it picked up and Aurora grew a backbone! Saying that, I did really like her. She struggles with waking up and seeing everything and everyone she knows are dead and gone. A nation relies on her to bring back good fortune when she can't rely on herself. She really grew during the story and I ended up really liking her and admiring her strength.
There's not much romance. There are 3 would be suitors and I have to say, I liked all of them, which is very rare for me!! Prince Rodric was the one who woke her and the one whom she is supposed to marry. He is kind and sweet and even though I didn't think they worked, he is still a rock for Aurora. Then there is the Tristan, the boy she befriends outside the castle. He is a mystery and I hope we find out more about him!! Finally there's the lovable rogue, Finnegan. He is definitely a mystery and seems to want Aurora for his own benefit, but he is hard to not like!!
Overall, I enjoyed this take on the Sleeping Beauty fairy tale. I'm glad it focused on the after events of the original! It is well written, despite being a little slow at the start, and well developed. There is plenty to like about A Wicked Thing and I will definitely pick up the next one to see what happens Aurora! We are also left with a lot of unanswered questions, which make picking up the next book a must!! What is with the Witch? How and why did Aurora wake, if the kiss wasn't true loves kiss? Why did the people think that once Aurora woke the magic would come back? So ya, there are a lot more unanswered questions as well as these! I think maybe a perquel or short story detailing the curse etc, would be awesome and answer a lot of those!!! Anyway, A Wicked Thing is a unique and entertaining retelling and I'm looking forward to the next one already!