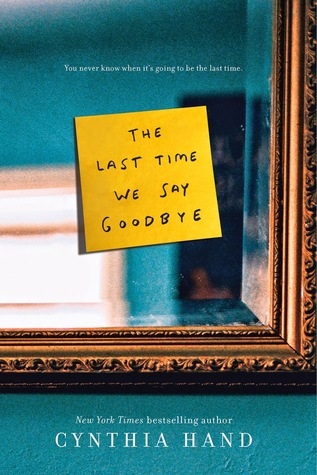 Title : The Last Time We Say Goodbye
Author : Cynthia Hand
Pages : 400
Published : 10th February 2015
Publisher : HarperTeen
Source : Edelweiss
Purchase : Amazon/ iTunes/ Book Depository
There's death all around us.We just don't pay attention.Until we do.


The last time Lex was happy, it was before. When she had a family that was whole. A boyfriend she loved. Friends who didn't look at her like she might break down at any moment.




Now she's just the girl whose brother killed himself. And it feels like that's all she'll ever be.




As Lex starts to put her life back together, she tries to block out what happened the night Tyler died. But there's a secret she hasn't told anyone-a text Tyler sent, that could have changed everything.




Lex's brother is gone. But Lex is about to discover that a ghost doesn't have to be real to keep you from moving on.




From New York Times bestselling author Cynthia Hand, The Last Time We Say Goodbye is a gorgeous and heart-wrenching story of love, loss, and letting go.
My Thoughts :
What can I say about this other than it's incredibly sad!! It's heart wrenching and will make you cry.
There isn't much to say about the plot because it's a book focused on dealing with suicide. Lex's brother committed suicide and now it's up to Lex and her mother to rebuild their lives. That's easier said than done though, because Lex is convinced she is seeing her brothers ghost and he is trying to tell her something.
Lex is urged to write a journal and it's through that journal that we glimpse what happened. We see Lex's side and gleam what happened that night. I loved that we got a lot of it journal style and we saw what Lex was going through. She had everything and then when Ty died, she went into herself and nearly losses everything. It's heart aching but we also see Lex's spirit and her strength.
This is a book dealing with love, loss, heartache and all that goes with an unexpected death, especially when that death is a suicide. Why would someone who is popular, a jock and loved by everyone, take their own life? This book shows that not everything is as it seems! People who are depressed don't always show the signs, they learn to bury it and at times it seeps through but we mightn't notice.
This also shows the impact a suicide has on a family, it doesn't just stop when that person dies!! There is always the question of why? Why did they do it? Why didn't they talk to someone? Why, why, why??
The Last Time We Said Goodbye is such a heartbreaking book but it sends a message that needs to be sent. Suicide is never the answer! No matter how bad life feels at the moment, and believe me, life can by sucky, talk to someone, get help please!! Life can get better.
Anyway, this isn't an easy book to read because of the issue, but Cynthia Hand handles it so well. Its a book of loss, grief and heartache but its also a book of hope and healing. Reading the book was hard enough but then I read the authors note and that sent me into another bout of crying!!