Title : The Glass Arrow
Author : Kristen Simmons
Publisher: Tor Books Publication date: 1 March 2015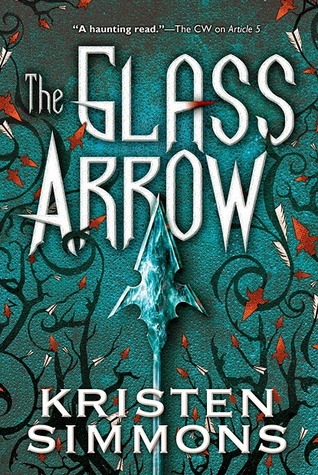 The Handmaid's Tale meets Blood Red Road in Glass Arrow, the story of Aya, who lives with a small group of women on the run from the men who hunt them, men who want to auction off breeding rights to the highest bidder.


In a world where females are scarce and are hunted, then bought and sold at market for their breeding rights, 15-year old Aya has learned how to hide. With a ragtag bunch of other women and girls, she has successfully avoided capture and eked out a nomadic but free existence in the mountains. But when Aya's luck runs out and she's caught by a group of businessmen on a hunting expedition, fighting to survive takes on a whole new meaning.
10 Random Things About Me:
Here are a few things you might not know about me… (wink)
I know all the words to Do You Want to Build a Snowman from Frozen.

I sometimes play pranks on my editor.

I may or may not have dressed up in a banana costume and shown up at her hotel room one morning.

I bake cookies when I get stuck writing.

I can't lie. I love Taylor Swift songs.

In my dream life, I eat chocolate cupcakes for breakfast and get a massage every afternoon.

I once danced on stage with Chippendale dancers.

I have lived in seven states.

My first car was an old Ford F-150 with an extended cab and a paint that peeled off in bubbles.

I lived in Louisville when I wrote Article 5, which is where the book starts. I lived in Tampa when I wrote Three, which is where the series ends.
Thank you! Hope you enjoy The Glass Arrow!
My Thoughts :
This book was high on my wishlist since I first knew the author had a new book coming out. I loved her other series and this one sounded epic! Well I loved it!!!
I love strong female heroines and Aya is one of the strongest! This girl never gives up. Aya is living in hiding along with a handful of others. Out hunting one day, she runs into a group of Businessmen out on their own hunting expedition, these men aren't hunting game though, they hunt women! Aya struggles but she is taken captive and is taken to the one place she feared. Will she escape and return to her family? Aya was such a feisty and brave girl and I loved her character. She could of given up so many times but she knew that the twins were relying on her!
In the Garden when Aya is in trouble (yet again) she is taken to solitary. While there she sees a Driver across the river. At first the Driver keeps his distance but when Aya is struck by the guard, he comes to her. They strike up a hesitant friendship. Everyone knows that Drivers cant speak so Aya fells like she can tell him anything. Since he can't tell her his name, she names him Kiran. I really liked Kiran. He was a rock for Aya and did all he could to try to help her. I loved seeing their friendship grow and blossom too.
Then we have Brax! He was just full of awesomesauce. He is a wolf that Aya befriended from her many many visits to solitary. He comes and visits her and she feeds him. He is a big help to her during her loney nights.
The best thing for me was the world building. It was amazing!! Men rule and women are nobodies. They are sold at auction to the highest bidders and have to do EVERYTHING they are told by their masters. The ones who aren't sold are often sold to be prostitutes. Aya has missed the last few auctions due to her own actions, she gets in fights so that her face is marked. This last auction though, since she was in solitary, she is perfect for. She tries her best to ruin it but ends up being sold to the Mayors son. She knows that once she is in that house, there's no way she will leave, it's too highly protected! How can she escape??
Anyway, The Glass Arrow was amazing. There is so much to learn and love about it and I loved everything, from it's intriguing and emotional story to it's captivating characters. It's stunningly written and in a way I'm sad that it's a standalone because these characters have captured my heart! Everything about this book was sheer perfection and I urge everyone to read it!
Kristen Simmons is the author of the ARTICLE 5 series and THE GLASS ARROW (Tor Teen). She loves her family, Jazzercise, and chocolate cupcakes. She currently lives in Cincinnati, Ohio.
--Giveaway is open to International. | Must be 13+ to Enter
5 Copies of Glass Arrow and Bookmarks by Kristen Simmons.
1 Winner will receive a Signed Copy of The Glass Arrow and Bookmark.
a Rafflecopter giveaway