Welcome to the Renegade by Kerry Wilkinson blog tour! I'm thrilled to be part of the tour and even more thrilled to share a wonderful Guest Post and Giveaway with you, but first let's find out about this amazing series.
Silver Blackthorn is a fugitive from the law.

Silver Blackthorn has committed treason.

She is dangerous. Do NOT approach her.

A large reward is on offer. Report any sightings to your nearest Kingsman.

Long live the King.




Silver Blackthorn is on the run. She fled Windsor Castle with eleven other teenagers, taking with her something far more valuable than even she realises: knowledge.




With the entire country searching for the missing Offerings, Silver must keep them all from the vicious clutches of King Victor and the Minister Prime. Until now, no one has escaped the king and lived to tell the tale.




Or have they?




With expectations weighing heavily on the girl with the silver streak in her hair, will she ever find her way home?
Book 1: Reckoning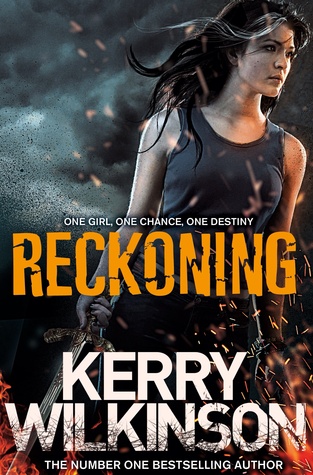 In the village of Martindale, hundreds of miles north of the new English capital of Windsor, sixteen-year-old Silver Blackthorn takes the Reckoning. This coming-of-age test not only decides her place in society - Elite, Member, Inter or Trog - but also determines that Silver is to become an Offering for King Victor.




But these are uncertain times and no one really knows what happens to the teenagers who disappear into Windsor Castle. Is being an Offering the privilege everyone assumes it to be, or do the walls of the castle have something to hide?




Trapped in a maze of ancient corridors, Silver finds herself in a warped world of suspicion where it is difficult to know who to trust and who to fear. The one thing Silver does know is that she must find a way out . .
Guest Post:
When a place becomes a character
It's all about the characters.
That's generally the starting point from which I try to work when I'm writing a book. Ideas, imagination, twists are all well and good - but if the characters are two-dimensional, drab and don't connect with a reader then, really, the writer has failed.
That's always something for readers to judge and until a book is released and people start to tweet and email, it's always a nervous time to be a writer. I guess I've been lucky so far. Among other things, I've had a woman talking about naming her unborn child 'Silver' and a mum sending me a picture her daughter drew of Silver. It's really lovely.
There is, of course, a small addition to the above statement in that a setting can become close to a character as well. In my crime books, that tends to be Manchester. I write about individual streets, the cobbles, the grime, the grey skies, the wind, the weekend bustle, the street sellers, the traffic lights and everything else I see whenever I'm there. I want it to feel real because, well, it is.
The settings within the Silver Blackthorn trilogy are a little different in that, although Silver's home village of Martindaleis a real place, it's far smaller than my version.
I still want it to be a living, breathing place, however - a character in its own right.
For that, I drew upon my own experiences of growing up. I come from a small-ish town in Somerset, England. A place where there's one school for students who hit 14 and where everyone goes. It means that, in some ways, everyone's connected, from youngsters, to teachers to parents.
Whole generations grow up and then have children of their own, before sending them off to the exact same schools they used to go.
It's a place where, as a kid, it's difficult to get away with messing around for fear of being seen by that woman who lives in the flat at the top of the hill who once dated that bloke who's friends with that woman who works in the cheese factory and goes drinking with your uncle.
Or something like that!
Sooner or later, news of your misdeeds will end up back with your parents. You end up getting home from school to get the 'What-have-you-been-up-to?' stare. It's always a dangerous time, with the chance that you could end up confessing to something completely different to what you've been spotted doing.
I wanted to capture that in Silver's world. She's a bit of a wanderer, wanting to climb, run, explore and get into mischief - and yet everyone in her village knows her and her family. I really hope that, over the course of the trilogy, I manage to capture that. After all, it is all about the characters. It's just that, sometimes, a place can be a character, too.
About the Author
Despite two national newspaper reports to the contrary, Kerry Wilkinson is male. Honestly.




His debut,

LOCKED IN

, the first in the detective Jessica Daniel series, is a UK no.1 Kindle bestseller, with the first three Jessica Daniel books making him Amazon UK's top-selling author for the final quarter of 2011.


THINK OF THE CHILDREN

came out in February 2013, outselling Dan Brown to become Amazon UK's no.1 Kindle pre-order. Kerry is the first formerly self-published British author to have an ebook no.1 and reach the top 20 of the UK paperback chart.




Since then, the Jessica Daniel series has continued with PLAYING WITH FIRE, THICKER THAN WATER, BEHIND CLOSED DOORS and CROSSING THE LINE.




A spin-off from PLAYING WITH FIRE - the Andrew Hunter series - started in 2014 with

SOMETHING WICKED

.




Pan Macmillan (Griffin in the US) are also publishing Kerry's young adult/fantasy/adventure series - the Silver Blackthorn trilogy. The first book,

RECKONING

, was released in 2014, with RENEGADE to follow in 2015.




He is an occasional sports journalist and can frequently be spotted cycling the hills of Lancashire while trying not to be knocked off. He was born in Somerset but now lives in the north west.
Find out more at:
http://kerrywilkinson.com
,
http://facebook.com/JessicaDanielBooks
and
http://facebook.com/SilverBlackthorn
Giveaway :
a Rafflecopter giveaway