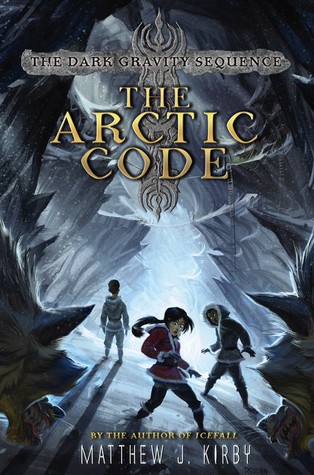 Title:
The Arctic Code
Series:
Dark Gravity Sequence #1
Author:
Matthew J Kirby
Pages: 336
Published: April 28th 2015
Publisher: Balzer + Bray
Source: Edelweiss
Purchase: Amazon/ Book Depository
It is the near future, and the earth has entered a new ice age. Eleanor Perry lives in Tucson, one of the most popular destinations for refugees of the Freeze. She is the daughter of a climatologist who is trying to find new ways to preserve human life on the planet. Dr. Perry believes that a series of oil deposits she has found in the Arctic may hold the key to our survival. That's when she disappears—but not before sending Eleanor a series of cryptic messages that point to a significant and mysterious discovery. Now it's up to Eleanor to go find her.




This search will launch Eleanor on a breathless race to unlock the mysteries of what has happened to our planet, solving the riddle of the cold that could be humanity's end—and uncovering a threat to the earth that may not be of this world.
My Thoughts:
An imaginative and intriguing read.
I loved the sound of this right from the start. A new Ice Age!! The fact that it's set in the Artic is another bonus because it's such an unforgiving place. So I went into it with high hopes and while there were a few things I didn't like, the majority of the book met them!!
Let's get the bad out of the way first.
At the start of the book we see Eleanor create a snow machine which was great because my first thought was, here's a smart and savvy young girl, but that's the one and only time she creates anything! I wanted her to use her smarts more. Plus she does something extremely stupid when she gets to the Arctic that any other person her age wouldn't of done!!
Then we have Luke, the pilot. He had such potential and in all honesty, I was disappointed with his role. While reading I was thinking that he should of played a bigger part and not let the kids run away.
Now onto what I liked:
Eleanor, she was a worthy heroine! When she finds out that her mother is missing, she does everything in her power to go find her, even if that means stowing away on a plane and going to a place that will freeze the breath in your lungs. She knew her own mind and knew what she needed to do. She was a strong spunky girl but also quite reckless, which will make her appeal to a lot of people.
The plot, I loved the idea of the new Ice Age and thought it was well explained at the start. You could envision something like that happening! I also liked how the Ice Age really happened because it wasn't something I saw coming. It was a nice spin.
I also liked how well the author described the cold. It was making me shiver just thinking about it.
In all, The Arctic Code was a fast paced and quick read. It's a blend of real world science and out of this world science and was a unique and interesting book. I look forward to the next in the series. Let's see where in the world we will be next!!!