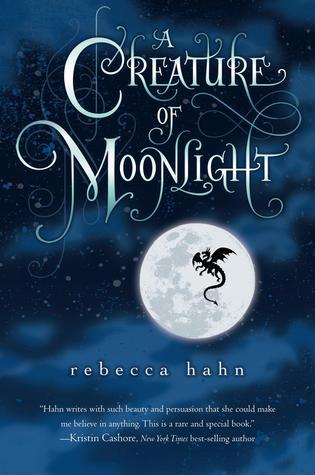 Title : A Creature Of Moonlight
Author : Rebecca Hahn
Pages : 224
Published : May 6th 2014
Publisher : HMH Books
Source : Netgalley
A stunning debut novel about a girl who is half dragon, half human, and wholly herself.
As the only heir to the throne, Marni should have been surrounded by wealth and privilege, not living in exile-but now the time has come when she must choose between claiming her birthright as princess of a realm whose king wants her dead, and life with the father she has never known: a wild dragon who is sending his magical woods to capture her.
Fans of
Bitterblue
and
Seraphina
will be captured by
A Creature of Moonlight
, with its richly layered storytelling and the powerful choices its strong heroine must make.
My Thoughts :
Marni lives with her grandpa in a hut near the woods. Her mother was killed by her own brother and he wanted to kill Marni too but the king, and her grandpa, saved her. He gave up his throne to look after her and moved near the forest. Because the current king doesn't have kids, Marni is heir to the throne. Not everyone is happy about this because Marni is half dragon. It was the reason her mother was killed! Should she claim her birthright or is the lure of the woods too much?
Well this was definitely different!!! I honestly have no idea what to say. I finished this a few days ago and I'm still thinking of it. This review mightn't be the best or most in debt one I've done but Ill try to gather my thoughts and make a bit of sense.
Marni was a an awesome character. When her grandpa dies, she sets out with revenge in her heart to kill the king, but ends up liking the court life and growing to love the queen. Her life has been difficult
and she never knew her mother or father. She grew up going into the woods even though her grandpa told her not to. She loved it in there. She never told anyone she went in there because so many girls went missing but to her it was home.
She was strong, quiet and good.
The plot was really slow but unique and magical. It was different than I thought because I expected a lot of dragons but its more a story of Marni.
While I liked A Creature Of Moonlight, I didn't love it. I found it hard to keep track of the story because I was bored. It
was the most confusing and captivating book I've
read in a while. The whole book was really really slow and yet I kept reading simply because of the style of writing. It was beautiful, evocative and rich in detail.
The author had a way of vividly describing things that pulled you in.
The woods were super creepy and t
he atmosphere she created was eerie. The whole lore she created was fascinating and I loved the mythological creatures. Those were what kept me reading. Overall Its an interesting and unique debut, if a bit boring!!