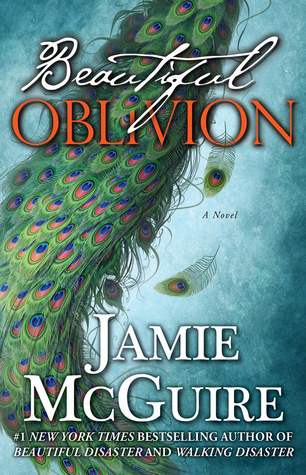 Title: Beautiful Oblivion
Series: Beautiful #3
Author: Jamie McGuire
Release Date: July 1st 2014
Publisher: Atria
The
Beautiful Disaster
and
Walking Disaster
phenomenon continues in the first heart-pounding new adult romance in The Maddox Brothers series.
Fiercely independent Camille "Cami" Camlin gladly moved on from her childhood before it was over. She has held down a job since before she could drive, and moved into her own apartment after her freshman year of college. Now tending bar at The Red Door, Cami doesn't have time for much else besides work and classes, until a trip to see her boyfriend is cancelled, leaving her with a first weekend off in almost a year.
Trenton Maddox was the king of Eastern State University, dating co-eds before he even graduated high school. His friends wanted to be him, and women wanted to tame him, but after a tragic accident turned his world upside down, Trenton leaves campus to come to grips with the crushing guilt.
Eighteen months later, Trenton is living at home with his widower father, and works full-time at a local tattoo parlor to help with the bills. Just when he thinks his life is returning to normal, he notices Cami sitting alone at a table at The Red.
As the baby sister of four rowdy brothers, Cami believes she'll have no problem keeping her new friendship with Trenton Maddox strictly platonic. But when a Maddox boy falls in love, he loves forever—even if she is the only reason their already broken family could fall apart.
In the first installment of the Maddox Brothers books, readers can experience the rush of reading
Beautiful Disaster
for the first time, all over again.
Julies Thoughts :
Oh boy, what to say about Beautiful Oblivion

….
Okay, I'm just going to dive right in. I loved Beautiful Disaster. Like, loved it. However, Beautiful Oblivion just didn't have the same lure for me. And this makes me sad. I was sad when I read Walking Disaster and found myself not drawn in enough to reach the end. At the time I put it down to the story simply being told by totally the wrong character, but now that I've read Beautiful Oblivion and feeling that this, too, greatly lacks the glitter and sparkles of the first in the series, I wonder if maybe this one should have stopped with Pidge.
Now, before I get the hate mail telling me to 'go die', I will say that it wasn't a total loss. Not all doom and gloom. I mean, I finishedthe book, and didn't coming away feeling as though I'd wasted those hours of my life. I mostly just came away sad and a little deflated.
Because I did like Trent. He was a nice dude. Believable. Even if he was very reflective of Travis. In fact, imagine Travis's stalker-like nature, and then tone it down a little, and you pretty much have Trent—so, maybe it was feeling as though it was a repeat of hisbehaviour that took some of my interest away.
I also kind of liked Cami—even though she too often seemed to lack independent thought, or was too easily swayed. I mean, going from being un-inked to a walking advertisement for the parlour and pierced to boot, just because she was nagged into it (who lets others nag them into permanently marking their body)???? Well, I dunno, but it just seemed like an extreme development to me.
And all the secrecy concerning her boyfriend? Yeah, I kind of expected something horrendous to be hidden in those closets, and the reveal at the end (which a lot of folk are figuring out early) was just … uninteresting? I mean, we spend the entire book waiting for something big and exciting to be exposed and then … it isn't. Not really.
On top of this, I didn't 'feel' the relationship. Something just seemed to be lacking there, and no matter how much I tried to submerge myself in the story, I just didn't connect with it—I didn't believe it.
So, yeah, I'm sad. I'm sad because I wanted to love this one as much as I loved

Beautiful Disaster—and I'm sad because I just … didn't.