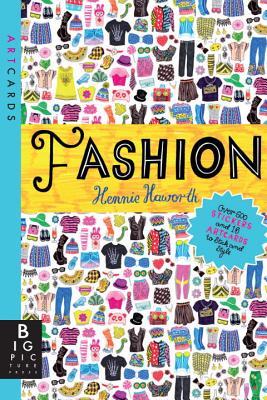 Title: Artcards: Fashion
Author: Jenny Broom
Illustrator: Hemmie Haworth
Release Date: July 22nd 2014
Publisher: Big Picture Press
Take the world of fashion by storm in this second ArtCards title. Set the trend with sixteen pull-out ArtCards to color in and decorate with twenty pages containing more than 350 stickers. With tongue-in-cheek text and highly detailed contemporary illustrations?--?inspired by fashion styles from the Roaring Twenties to the modern day?--?this is a fresh reimagining of a favorite dress-up activity format that will appeal to children and teens alike.
Julies Thoughts :
Reviewing a sticker/activity book was a new experience for me, so I was surprised to be contacted with the offer by Big Picture Press. However, after finding out more about the title in question, I realised just how much fun my teenage daughter could have with it. And I realised how much fun I could have with it, too.
And so a copy of Jenny Broom's Artcards: Fashion landed on my daughter. After which the fun began.
My daughter absolutely loved this activity book. After going through a variety of the common activity books through the different stages of growing up, Artcards: Fashion was definitely a step above the rest. The illustrations by Hennie Haworth were beautiful. Even the vibrant backs of each artcard, designed to appear as if coloured in with felt tip pen, were delightful. Each artcard depicts different 'models' and different scenes. And there are pages aplenty of outfits and accessories to play about with. It reminded me a lot of when I was young myself, and I used to make my own cut-out dolls and spend hours creating paper outfits so I could dress them up for different events—except on another level. On top of this, every artcard is a simple black and white drawing, allowing the option to colour in to your heart's desire—adding another layer of fun to this great book. And each artcard is also easily detachable, enabling the artist to keep them as pictures.
And because I'm me, I will try and find something to stick in the negative box. However, I truly found only two things. 1) The designs of the outfit stickers weren't always a great fit for the models. Even the ones where the shape of the certain clothing was obviously made to match up with a particular model, the fir just wasn't quite as great as it could have been. 2) Once the stickers are on, they're well stuck, so the artcards, once decorated, can't really be decorated again, which limits the scope of the activity somewhat.
That being said, these niggles barely took away from my daughter's fun. She spent hours inside this book. Hours choosing stickers to place on each doll. And it was definitely, definitely something we could spend time doing together. So I'd recommend it, for sure.