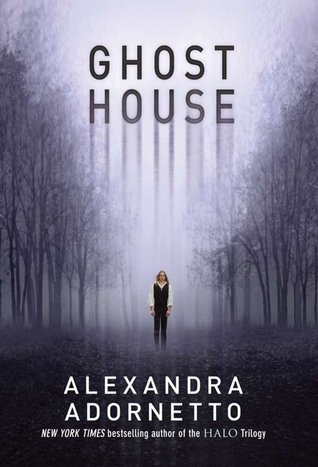 Title : Ghost House
Author : Alexandra Adornetto
Pages : 304
Published : August 26th 2014
Publisher : Harlequin Teen
Source : Netgalley
From the
New York Times
bestselling author of
Halo
comes the start of a beautiful and powerful new series.
After the loss of her mother, Chloe Kennedy starts seeing the ghosts that haunted her as a young girl again. Spending time at her grandmother's country estate in the south of England is her chance to get away from her grief and the spirits that haunt her. Until she meets a mysterious stranger…
Alexander Reade is 157 years dead, with secrets darker than the lake surrounding Grange Hall and a lifelike presence that draws Chloe more strongly than any ghost before. But the bond between them awakens the vengeful spirit of Alexander's past love, Isobel. And she will stop at nothing to destroy anyone who threatens to take him from her.
To stop Isobel, Chloe must push her developing abilities to their most dangerous limits, even if it means losing Alex forever… and giving the hungry dead a chance to claim her for their own.
My Thoughts :
Chloe has always seen Ghosts but has managed to push them away since she was a little girl but when her mother dies, they come back. She is too heartbroken to shut her mind from them. Her father is equally heartbroken and isn't able to properly look after her and her brother so he asks their Grandmother to take them for a while. Thing is that their Grandmother owns an estate in England, which to Chloe is a dreary cold place. The last time she was there the place was run down and very cold!!
Yet things have changed since then. The estate has been fixed up to be nearly as grand as it used to be and is now a Guest House. Despite the house being magnificent, Chloe knows its going to be a hard summer. She misses her mother but she is also so bored. She decides to take a walk and during it she sees a stranger. He is so handsome and regal and Chloe thinks he may be on of her Grandmothers guests. On her return from the walk she runs into him again and he introduces himself as Alexander Reade. He is a Ghost and is tied to the house and grounds. As Chloe gets to know him she realises he isn't like other Ghosts but the more time she spends with him the angrier his past love, Isobel, becomes. She starts tormenting Chloe and Chloe needs to find a way to stop her before its too late.
This is my first book by Alexandra Adornetto. I have her other series but haven't read it yet so when I was accepted to review this I was thrilled yet a little hesitant. Id read some pretty horrid reviews of her work, including this, and didn't know what to expect. Well I was pleasantly surprised with Ghost House. It didn't knock my socks off by any measure but I enjoyed the book.
Right off Im going to get the negative stuff out of the way and will say that the authors writing style, while at times eloquent, was for most of the book very juvenile. I know the author is only 18 or something but still!! I also thought the romance element was eye rollingly nauseating. Those two factors were the biggest down fall for me. Chloe arrives at the estate and its kind of insta love between her and the ghost, I mean seriously!! How can you fall for a Ghost? I can understand having feelings for him but not falling for him. Then Alex is all, I love you so much etc but I still have feelings for Isobel, she was my first love, yada yada!! Ugh. So ya, I didnt like the romance between Alex and Chloe at all!!
No onto the good parts. Character wise, I liked Chloe. She was strong, sensible (to a point) and brave. I liked the fact that she hates that she can see ghosts but learns to live with it. I know if I could see ghosts Id hate it too!! She learns to block the ghosts out but when her mother dies, she hasn't got the mental strength to do it, she is too devastated. I liked Alex too. He is the typical male aristocrat. Strong, powerful and commands respect but he is also sweet. I liked that we found out his and Isobels story in segments and we see the sweet and respectful side of him. I did think that Isobel wasnt used enough though. I would of liked to have seen more of her because what we did see was chilling!!
Plot Wise, it was good. Girl goes to spooky house, sees ghosts and has a vengeful spirit to contend with. That about sums it up but yet I still enjoyed the concept. The setting was perfect, England does have some spooky manor houses and when its a dull, dreary day, it would be really spooky.
Overall I liked (I know Im using this word a lot!!) Ghost House. Despite its faults, its a chilling ghost story. I loved the last part of the book because the story really picked up. It left us with a cliffhanger ending so I will definitely pick up book 2 to see what happens and Im hoping that the authors style might mature a bit from now on. She has something special but it just needs to be refined.