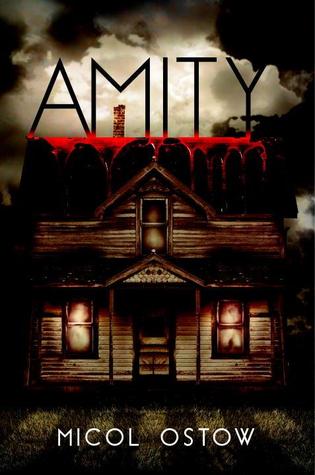 Title : Amity
Author : Micol Ostow
Pages : 368
Published : August 26th 2014
Publisher : Egmont USA
Source : Edelweiss
For fans of Stephen King and American Horror Story, a gruesome thriller suggested by the events of the Amityville Horror.
Inspired by a true-crime story of supernatural happenings and gory murders, Amity spans two generations and beyond to weave an overlapping, interconnected tale of terror, insanity, danger, and death.
My Thoughts :
Amity tells the story of two separate families, 10 years apart. They buy a cheap home, not knowing the history it has. Both families completely different but both sharing a similar fate.
I think nearly everyone knows the Amityville story. I remember watching the movie from behind my hands!! Lol. Its one scary movie. Well Amity has some of the scare factor.
The first family we meet is Connors. They move into the house because it was cheap and their father is laying low after some shady dealings. His father is a tyrant who beats his mother and I really really disliked him!!!! (That's being polite) Anyway, Connor only really gets on with his twin Jules. He is a trouble maker and quite frankly very scary. He has always been OK with creepy things and is one of those people who you want to keep your pets away from!! When he moves in he starts getting more and more withdrawn and spends a lot of the time in the basement and out in the boathouse.
Then 10 years later Gwens family moves in. The minute she sees the house she knows something is up. The house is giving off menacing vibes but that cant be she ignores it because its just a house, right? Things start happening and Gwen starts seeing things and feeling things but no one believes her. Will she survive the house or will it get to her like it got to Connor?
When I saw Amity I knew I had to read it. The blurb was intriguing enough and it has been years since I saw Amityville so I thought that this would be scary without being too scary! Well I was right. It was creepy and at times spine tingling but not overly so. I loved how the story was told from two different families because we see very different reactions to the same kind of things. Connor feels connected to the house whilst Gwen feels the opposite. Amity affects both families in different ways. I also loved how the author made the house feel like a physical sentient. He made it so the house was a living thing. It was very very creepy!!!!
Overall Amity is a creepy book. Its not very scary but it does have a little scare factor. It was fast paced enough to keep me turning the pages. I loved the Amity back story but do wish it was explored a bit more though. It was fascinating and very eerie. I flew through the book and did enjoy it and Ill definitely check out more by this author.