Welcome to the Debut Author Bash hosted by YA Reads! Check out the schedule to find some amazing books and authors! It is my honour to introduce debut author Elissa Sussman and her book Stray!! Ive already read Stray and you guys are in for a treat, its awesome. I also have a wonderful guest post from Elissa with her Top 5 favourite Fairy Tale Books and Movies (which by the way are amazing choices).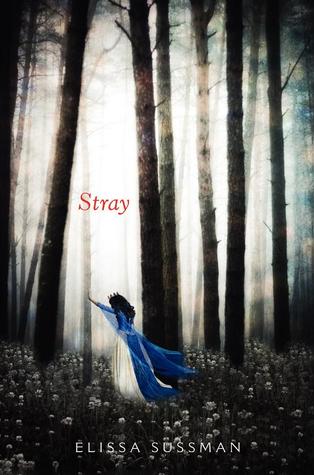 "I am grateful for my father, who keeps me good and sweet. I am grateful for my mother, who keeps her own heart guarded and safe. I am grateful for my adviser, who keeps me protected. I am grateful for the Path, which keeps me pure. Ever after."
Princess Aislynn has long dreamed about attending her Introduction Ball, about dancing with the handsome suitors her adviser has chosen for her, about meeting her true love and starting her happily ever after.
When the night of the ball finally arrives and Nerine Academy is awash with roses and royalty, Aislynn wants nothing more than to dance the night away, dutifully following the Path that has been laid out for her. She does not intend to stray.
But try as she might, Aislynn has never quite managed to control the magic that burns within her-magic brought on by wicked, terrible desires that threaten the Path she has vowed to take.
After all, it is wrong to want what you do not need. Isn't it?
STRAY is the first in a collection of intertwined stories, all set in a world where magic is a curse that only women bear and society is dictated by a strict doctrine called The Path. A cross between The Handmaid's Tale and Wicked, with a dash of Grimm and Disney thrown in, this original fairy tale will be released October 7th, 2014 from Greenwillow Books/HarperCollins.
Guest Post :
Favorite Fairy Tale Books
Generally I prefer my fairy tales like my brown sugar: dark*
1.
Briar Rose by Jane Yolen
Someone left a paperback copy of Jane Yolen's BRIAR ROSE in the giveaway pile at my college coffee house. I read it in an afternoon. It's Sleeping Beauty, only there's no witch and no spinning wheel, only Nazis and barbed wire.
2.
Deerskin by Robin McKinley
I can think of few fairy tales that are as twisted and terrible as Thousand Furs, the story DEERSKIN is based off of. The formula is familiar: a princess, her father and a long-dead queen. Only the king doesn't dote on his daughter, he lusts for her. Robin McKinley's book doesn't shy away from its origins, instead it twists them even further. It also has the best girl and dog relationship I've ever read.
3.
Six Gun Snow White by Catherynne M. Valente
More a novella than a novel, this reimagining of Snow White is gritty and gorgeous. The stepmother in Catherynne M. Valente's story gives our protagonist her name as a taunt, rather than its usual worshipful description. For this Snow White is part Crow Indian and the tale she tells is both mystical and mournful.
4.
Entwined by Heather Dixon
My last two choices aren't nearly as bleak as the first three. In fact, they're both rather sweet stories. Twelve Dancing Princesses is one of my favorite fairy tales and there have been some excellent retellings of this particular story lately, but this novel by a fellow Greenwillow author is especially magical.
This Cinderella retelling is charming and romantic. It's no longer a story about the girl who sleeps in the cinders who marries the prince. It's about a girl, lonely and grief stricken, who falls in love with the royal huntress. Like a few other retellings on this list, it takes a familiar tale and gives it a subversive twist, breathing new life into an old story.
*sometimes I even use dark brown sugar when the recipe calls for light because I'm a rebel like that.
Favorite Fairy Tale Movies
I was tempted to put INTO THE WOODS on this list since I love it and I've seen it a billion times, but does the recorded stage version really count as a movie? A film adaption is headed to theatres this December, so for now, this wonderful Sondheim musical will just have to get an honorable mention.
Huff puff, this mini-series is great! At seven hours it's a commitment, but well worth it if you love having all your favorite fairy tales mixed together in an irreverent, sometimes tragic story about mothers and daughters. And I bet you can't make it through the whole thing without falling in love with Wolf.
I could write a book about the feminist themes sprinkled throughout ENCHANTED. It's a smart, funny movie that makes fun of the tropes presented in animated films, while still lovingly paying homage to them. And the music! Truuuuuue love's kiss!
This will always and forever be my favorite Disney movie. I spent many summers in my grandma's pool swimming with my legs together and flipping my wet hair up out of the water and over my head. I would have made a wonderful mermaid.
4.
The Princess and the Frog
These two animated fairy tales will always have a special place in my heart. I can't watch either without remembering the long months and late nights it took to make them. And if you look close enough, you can catch the likeness of yours truly following Prince Naveen throughout New Orleans. I'm the tall one.
Elissa Sussman is a writer, a reader and a pumpkin pie eater.
Her debut novel, STRAY (Greenwillow Books/HarperCollins), is a YA fantasy about fairy godmothers, magic and food. She received her BA from Sarah Lawrence College and in a previous life managed animators and organized spreadsheets at some of the best animation studios in the world, including Nickelodeon, Disney, Dreamworks and Sony Imageworks. You can see her name in the credits of THE CROODS, HOTEL TRANSYLVANIA, THE PRINCESS AND THE FROG and TANGLED.
She currently lives in Los Angeles with her boyfriend and their rescue mutt, Basil