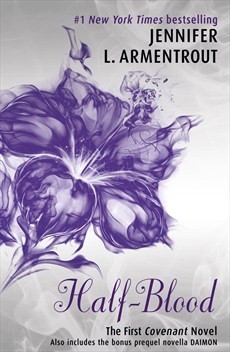 Title: Half-Blood
Series: Covenant #1
Author: Jennifer L. Armentrout
Publisher: Hodder
Release Date: August 14th 2014
First book in the addictive Covenant series from #1 New York Times bestselling Jennifer L. Armentrout.
HALF-BLOOD is the unputdownable first book in the acclaimed Covenant series from #1 New York Times bestselling Jennifer L. Armentrout. This special paperback edition also includes the prequel novella DAIMON.
The Hematoi descend from the unions of gods and mortals, and the children of two Hematoi - pure-bloods - have godlike powers. Children of Hematoi and mortals - well, not so much. Half-bloods only have two options: become trained Sentinels who hunt and kill daimons or become servants in the homes of the pures.
Seventeen-year-old Alexandria would rather risk her life fighting than waste it scrubbing toilets, but she may end up slumming it anyway. There are several rules that students at the Covenant must follow. Alex has problems with them all, but especially rule #1:
Relationships between pures and halfs are forbidden.
Unfortunately, she's crushing hard on the totally hot pure-blood Aiden. But falling for Aiden isn't her biggest problem - staying alive long enough to graduate the Covenant and become a Sentinel is. If she fails in her duty, she faces a future worse than death or slavery: being turned into a daimon, and being hunted by Aiden. And that would kind of suck.
Julies Thoughts :
I'll come clean from the off and confess that this isn't the first time I've read Half-Blood by Jennifer L. Armentrout. However, enough of a time-gap has passed for me to thoroughly enjoy this all over again.
The first time I read this, the first half of the book took a while to get into, but having now completed the series and understanding the world a lot better, I had no need this time to slow down while I absorbed all of the world building, which means that once more I was, even faster than before, sucked into a vortex of JLA's making.
In my first review, I gave my opinion on its supposed similarities to another series. At the time, I hadn't read the other series—however, I now have, and I still stand by my own opinion that Half-Blood has enough uniqueness to stand on its own merit. The characters are so well developed, the reader has no choice but to give them the deserve respect. The world building is so well mapped out, the reader has to pause to acknowledge that and give kudos where kudos is due. Once more, I found myself submerged and connected with Alex, and once again I found myself torn between the two male leads. Because I love Alex's mysteriousness, the intrigue that naturally comes with someone forbidden. But I'm such a huge fan of Seth's character, his self-absorption, his self-declared hotness—blend this a$$holey side of him with his obvious ability to give a damn when needed and you do, under all his pompousness, have a half-decent guy with promise. What I enjoy about JLA's books also is that she's not afraid—she not afraid to push the boundaries of YA, to risk p-ing off the readers by killing characters off, to toss in twists and turns that might break the readers hearts. It takes guts to put characters through the ringer the way she does in this series, and I have little choice but to admire that.
So, as I said in my initial thoughts way back when I was first introduced to this series:

Half-Blood

is a kick-a$$ read and definitely worth picking up.