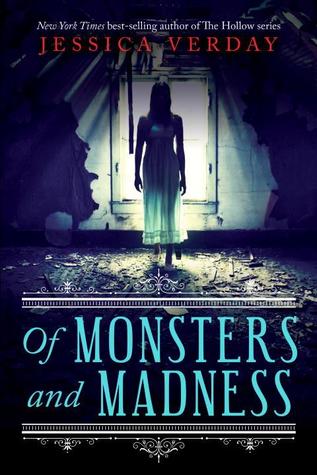 Title : Of Monsters and Madness
Author : Jessica Verday
Pages : 304
Published : September 9th 2014
Publisher : Egmont
Source : Edelweiss
A romantic, historical retelling of classic Gothic horror featuring Edgar Allan Poe and his character Annabel Lee, from a New York Times best-selling author.
Summoned to her father's home in 1820's Philadelphia, a girl finds herself in the midst of a rash of gruesome murders in which he might be implicated. She is torn romantically between her father's assistants-one kind and proper, one mysterious and brooding-who share a dark secret and may have more to do with the violent events than they're letting on.
My Thoughts :
When Annabels' mother dies, she is brought to Philadelphia to her fathers home. She has never met him nor knows anything about him. She is equal parts terrified and excited. When she gets there she is slightly disappointed to find he didn't come to meet her. As she is going to the carriage that will take her to her new home she hears of the murders that are happening. While she is scared she knows its nothing got to do with her, or does it!!!
Wow, this was nothing like I thought it would be. I have to admit that I've never read Poe and know nothing of his poems or stories so cant compare this retelling to anything.
I loved Annabels character. Annabels mother was a doctor of sorts in Siam so Annabel grew up thinking she would one day be a doctor like her mother. When she gets to her fathers house he expects her to act like a lady and get the doctor notions out of her head. There are no female medics in her time!! She gets classes to teach her how to be proper but she never really lets it change her. She is kind to the servants and makes friends with one. She helps people out not matter what any one thinks and she is just an all round lovable person. Her only down side is her need to make her father proud and feeling bad about herself when she doesn't.
Allan Poe is an assistant to Annabels father. He is handsome and kind and both of them hit it off straight away. He assists her father during the day and is an aspiring author and tries to write as much poetry as he can at night. The relationship between Allan and Annabel was really sweet.
Then we have Edgar Poe, Allans cousin who assists Annabels father in the night time. He is mysterious and creepy but yet Annabel is strangely drawn to him. She tries to stay away from him but he keeps popping up. I liked the mystery surrounding him and the creepiness of his character.
So overall Of Monsters and Madness is a dark, dangerous and deadly world. The plot is fresh and very fast paced. Its well written and with lovable characters. The whole time you are reading you are sucked into the world the author has created. I was on the edge of my seat waiting to see what happens and wasn't disappointed when the thrilling ride came to an end. Its a dark and sometimes bloody book but wasn't as bad as I thought. I went into this with no expectations and I do think that's why I enjoyed it so much. Ill definitely check out more of this authors work!