Welcome to my stop on the Exquisite Captive blog tour. Thanks to Me My Shelf and I for hosting. Check out the full schedule HERE. Im excited to be part of this tour because I absolutely adored the book, as you can see from my review ;) !!
Exquisite Captive
Dark Caravan Cycle #1
Author: Heather Demetrios
Release Date: October 7th, 2014
Publisher: Balzer+Bray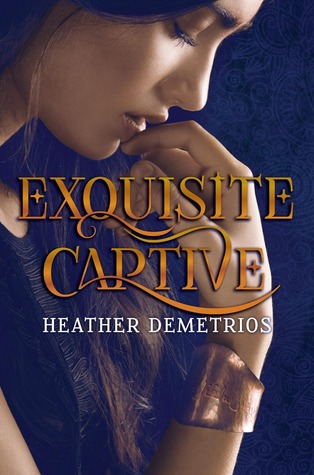 Forced to obey her master.
Compelled to help her enemy.
Determined to free herself.
Nalia is a jinni of tremendous ancient power, the only survivor of a coup that killed nearly everyone she loved. Stuffed into a bottle and sold by a slave trader, she's now in hiding on the dark caravan, the lucrative jinni slave trade between Arjinna and Earth, where jinn are forced to grant wishes and obey their human masters' every command. She'd give almost anything to be free of the golden shackles that bind her to Malek, her handsome, cruel master, and his lavish Hollywood lifestyle.
Enter Raif, the enigmatic leader of Arjinna's revolution and Nalia's sworn enemy. He promises to free Nalia from her master so that she can return to her ravaged homeland and free her imprisoned brother—all for an unbearably high price. Nalia's not sure she can trust him, but Raif's her only hope of escape. With her enemies on the hunt, Earth has become more perilous than ever for Nalia. There's just one catch: for Raif's unbinding magic to work, Nalia must gain possession of her bottle…and convince the dangerously persuasive Malek that she truly loves him. Battling a dark past and harboring a terrible secret, Nalia soon realizes her freedom may come at a price too terrible to pay: but how far is she willing to go for it?
Inspired by Arabian Nights, EXQUISITE CAPTIVE brings to life a deliciously seductive world where a wish can be a curse and shadows are sometimes safer than the light.
My Thoughts :
This book right here is why I love reading! Every so often you find a book that just captivates you and from the start, you know you will love it! I devoured this and didnt want it to end.
Nalia is the last of her kind after her kind were killed with guns from earth. She relied on someone she knew to get her out of Arjinna but he betrayed her and forced her to become a slave. She was tied to her bottle and whoever bought the bottle owned her for three wishes.
Malek bought her and Nalia thought that once the three wishes were used shed be free, but Malek isnt just a normal human. He knows secrets that only Jinni should know. He knows that he only gets three wishes so one of his wishes is that Nalia must obey every command he gives her and must grant one wish to whom ever he chooses.
Even though she is bound tight, she still tries everything she can to escape. Malek is a cruel master and very clever so all her efforts go to waste. She has been with him for 3 years and is beginning to loose hope when someone enters her life who may be able to help her. Can she trust him though and what are these feelings she is having for Malek?
Nalia was an awesome heroine. She is spunky, strong, brave and loyal. All she wants is to be free so she can save her brother who is still in Arjinna. She has to hide her true identity from the many Jinni on earth because they all hate her kind. She is exceptionally strong but with the binds on her, her power is limited.
Malek started out as an ass but over the course of the book we see a different side to him. He isn't all he seems and I ended up liking him. He is complex and cruel but strangely compelling.
Enter Raif. The leader of the Jinni resistance and Nalias only hope. He wants to hate Nalia simply because of what she is but he finds himself drawn to her. I loved the chemistry between Raif and Nalia and hope to see more of it and them in further books.
I adored the world the author has created. Its complex, rich in history and yet pretty dark. At the start of the book is a glossary of Jinni class and without it I think I would of been lost. It helped understand the Jinni dynamic and why Nalia has to hide. The authors descriptive writing pulled you into the lush world and didn't let go. She has created a world that I wont forget and one Ill always look forward to diving into.
An absolutely captivating read!! Everything about it was amazing. From the Jinni to the ghoul, from earth to Arjinna, from Malek to Raif, Exquisite Captive is a must read. Rich in detail and totally compelling, I can not wait for more from this series and I need book 2 now!!!
About The Author
When she's not traipsing around the world or spending time in imaginary places, Heather Demetrios lives with her husband in New York City. Originally from Los Angeles, she now calls the East Coast home. Heather is a recipient of the PEN New England Susan P. Bloom Discovery Award for her debut novel, Something Real, which Publisher's Weekly calls "[An] addictive yet thoughtful debut" about reality TV stardom. She is the author of the upcoming EXQUISITE CAPTIVE, a smoldering fantasy about jinn in Los Angeles and what Kirkus called in its starred review "an intoxicating, richly realized realm of magic, politics, spirituality and history" (#1 in the DARK CARAVAN CYCLE). She is also the author of the upcoming I'll Meet You There (Winter 2015). I'll Meet You There is a love story about a young combat veteran and a girl trapped in their small town, both struggling to escape the war at home. Heather is the founder of Live Your What, an organization dedicated to fostering passion in people of all ages and creating writing opportunities for youth of limited economic means. She is proud to have an MFA in Writing for Children and Young Adults from Vermont College of Fine Arts. You can always find her on Twitter (@HDemetrios), ogling the military dogs she wants to adopt (but can't because her NYC apartment is way too small). Find out more about Heather and her other books at
www.heatherdemetrios.com
and
www.darkcaravancycle.com
Giveaway
Must be 13+ To Enter | Ships to US only.
23 Winners will get a signed finished copy of Exquisite Captive by Heather Demetrios
a Rafflecopter giveaway