Hi guys. I have K.C. Finn on the blog today talking about her new release A Place Halfway! It's book 3 in her Synsk Series.
A struggling psychic girl steps out into the big, wide world amidst the murky depths of racial segregation in England, 1961.
As a teenage psychic, Josephine Fontaine knows what it's like to be different. At Peregrine Place, a school full of youngsters with gifts just like hers, sixteen-year-old Josie is growing tired of her life and looking for excitement beyond the grand manor house's walls. When an opportunity arises to work in a local music bar, she jumps at the chance, learning to balance her new job with the pressures of studying the ways of the Synsk.
There she meets the charming Tommy Asher, a fellow psychic with a talent for music, and Jake Bolton, a handsome, surly stranger with coffee-coloured skin. Throw in the return of her old crush Dai Bickerstaff, and Josie finds herself embroiled in a drama much bigger than she could have imagined, especially when certain parties take issue to her developing a friendship with a boy who isn't white-skinned. When a mysterious record mogul offers Josie help to improve her psychic gifts, her world turns totally upside down, and she begins to question everything she thought she knew about the world, her family, and even herself.
Coming of age was never so intense as it will be for Josie in the winter of 1961.
The Mind's Eye (Book 1)
A girl with a telepathic gift finds a boy clinging to his last hope during the war-torn climate of Europe, 1940.
At fifteen, Kit Cavendish is one the oldest evacuees to escape London at the start of the Second World War due to a long term illness that sees her stuck in a wheelchair most of the time. But Kit has an extraordinary psychic power: she can put herself into the minds of others, see through their eyes, feel their emotions, even talk to them – though she dares not speak out for fear of her secret ability being exposed.
As Kit settles into her new life in the North Wales village of Bryn Eira Bach, solitude and curiosity encourage her to gain better control of her gift. Until one day her search for information on the developing war leads her to the mind of Henri, a seventeen-year-old Norwegian boy witnessing the German occupation of his beloved city, Oslo. As Henri discovers more about the English girl occupying his mind, the psychic and emotional bonds between them strengthen and Kit guides him through an oppressive and dangerous time.
There are secrets to be uncovered, both at home and abroad, and it's up to Kit and Henri to come together and fight their own battles in the depths of the world's greatest war.
Leighton's Summer (Book 2)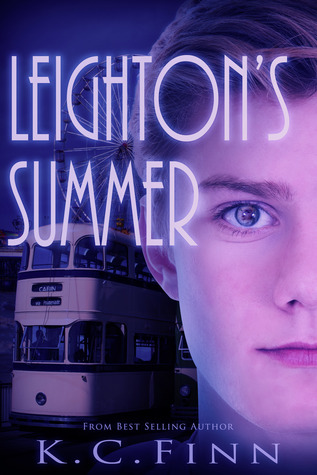 A teenage boy with something to prove gets caught up in a web of crime and deceit in England, 1945.
In the weeks leading up to his sixteenth birthday, gifted psychic Leighton Cavendish finds himself suddenly packed off to Blackpool, a glittering teenage paradise filled with plenty of opportunities for amusement (and trouble) to ensue. With only a preoccupied grandmother to keep an eye on him, Leighton's desperation for adventure leads him out into a world of holidaymakers, candy and carnival rides: the ideal place to spend six weeks away from home.
But Leighton's psychic visions are encroaching on his fun, trying to warn him of the danger that lurks beyond the shimmering lights of the Golden Mile. Who are the mysterious thieves Leighton sees in his head and what do they want with the children they seek? A girl called Faye holds the answer, but she has enough problems of her own. Amid the climate of a tourist town recovering from the impact of the Second World War, two lost teenagers will discover a shocking truth about human greed and together they will try to fight against it. For Leighton and Faye this will be a summer to remember: a summer filled with challenges that must be overcome.
A summer that turns a boy into a man.
Book Soundtrack: All The Songs Featured in 'A Place Halfway'
1.

Save The Last Dance For Me – The Drifters
Baby don't you know I love you so?
Can't you feel it when we touch?
I will never, never let you go
The song Josie sings at the very opening of the book, when she's outraged that her teacher Miss Cartwright thinks that studying is more important than the charts.
Now, I don't mean to bother you
There's danger of me losing all of my happiness
For I love a girl who doesn't know I exist
Josie receives this record from Hanne for her sixteenth birthday. It's also the song that she hears Jake singing later on when he's washing dishes. She says he sounds exactly like Sam Cooke when he sings.
3.

Cathy's Clown by The Everly Brothers
I've got to stand tall, you know a man can't crawl
For when he knows you're telling lies
And he lets them pass him by
This is 'the one about the clown' that Claudette, Josie's mother, really likes. Mother and daughter bond over this tune before Josie goes out and finds her job at the music club Halfway To Paradise.
4.

Johnny B Goode by Chuck Berry
His mother told him someday you will be a man,
And you would be the leader of a big old band.
Many people coming from miles around
To hear you play your music when the sun go down
This song is playing at Halfway on the day that Josie first meets music mogul Vincent Walsh. They bond instantly over their mutual appreciation for Chuck Berry's stylings and awesome guitar playing.
5.

Peggy Sue by Buddy Holly
With a love so rare and true
Yes, I want you, Peggy Sue
Tommy Asher treats Josie to a secret rehearsal of this song, which he sings at his audition for Halfway's music contest. Hanne is a huge Buddy Holly fan, and she melts when she hears Tommy play this song.
6.

I Feel So Bad by Elvis Presley
Sometimes I want to leave here
Then again I want to stay
Pack my grip and ride away
Josie and Jake have their first true bonding moment over their appreciation for Elvis's latest chart hit. They listen to the song again later in their relationship with fond memories of that first proper conversation.
7.

Hound Dog by Elvis Presley
When they said you was high classed,
well, that was just a lie.
You ain't never caught a rabbit
and you ain't no friend of mine.
Jake reminisces that this was his father's favourite song. Later in the story, he brings the house down with his own rendition, singing it as though his father can hear him from Heaven.
8.

Splish Splash by Bobby Darin
They was a splishin' and a splashin'
Rockin' and a rollin'... yeah!
You may missed this one when you were reading, but it's the song Jake sings when he's washing up, as V.W. and Josie listen in from outside the kitchen, discussing his potential.
9.

Jealousy by Billy Fury
Was only through jealousy
And angry words were spoken
The song that Tommy sings the next time he competes in the competition. Josie says of him: "Every time he hit the stage, he was getting more accomplished, strumming out a note-perfect accompaniment to the pianist behind him as though they had rehearsed together for years."
10.

Halfway To Paradise by Billy Fury
Bein' close to you is almost heaven
But seein' you can do just so much
It hurts me so to know your heart's a treasure
And that my heart is forbidden to touch
Just as a little bonus track to close the playlist, this is the song that the music club Halfway To Paradise is named after. I think it's lyrics really sum up the two romantic relationships of the novel, and how romance in general was portrayed by the music of the 1960s.
Author Interview :
How would you describe the atmosphere of your new book, A Place Halfway?
A Place Halfway is a young adult novel set in England, 1961. It's a story of young love, racial prejudice and coming of age set against the backdrop of the British rock 'n' roll music scene. The central character, Josie, is a music fanatic, who takes a weekend job in a music club to escape her duties at Peregrine Place, a school for young people with psychic gifts.
This is the third book in the Synsk series. How is it similar and how does it differ from the first two?
All of the Synsk books can be read as stand-alone novels, but they do have characters that are present throughout the series. For example Kit Cavendish, who was 16 in The Mind's Eye in 1940, is now grown up with children of her own in this book. But A Place Halfway is very different again from books one and two, because its main character, Josie, is a struggling psychic who would rather spend her time thinking about music and boys than work on her special gift. That is, until life demands that she wakes up and smells the roses!
You've used a little music in the previous two books, but A Place Halfway has a lot more included. Why was it so important for this story?
Music is a great way to set the period when you're writing about history, but in the first two books it wasn't a hugely necessary thing. A Place Halfway, however, is set during the birth of the rock 'n' roll era, when the likes of Elvis Presley were taking the world by storm. I think that young people who were teenagers in the late fifties and early sixties were very much influenced by the social changes reflected in the music scene, so I felt it was important to represent that in the story.
Was it difficult to make things historically accurate for 1961?
Musically speaking, the BBC here in the UK have an excellent resource for recording exactly what songs were in the charts every single week of 1961, so I was able to make the music Josie and Jake listen to completely accurate to each month that passes in the story. The excerpt from the Queen's Speech (used at Christmas time in the book) is also completely accurate, and amazingly apt for my story! I think there's no reason why you can't be accurate and entertaining at the same time in historical fiction, if you're willing to work hard at it.
Why should people who've never read historical fiction take a chance on it?
I think a lot of people believe that historical fiction is going to be full of useless facts and that the story will read more like a textbook than a novel. Now don't get me wrong, there ARE a lot of books like that out there, but don't let it put you off the genre forever! There are plenty of us authors out there who are delivering really interesting stories with characters that you can relate to, plus they have this added fascinating atmosphere of times gone by. The Mind's Eye is totally free to download across all platforms, so why not grab a copy and see for yourself!
K. C. Finn was born and raised in Cardiff, South Wales, where her love for storytelling grew at a precociously young age. After developing the medical condition M.E. / C.F.S., Kim turned to writing to escape the pressures of disabled living, only to become hooked on the incredible world of publishing.
As an author for Clean Teen Publishing and Crushing Hearts and Black Butterfly Press, Kim spends most of her time locked in the writing cave with an obscenely large mug of tea. When not writing, she can be found studying for her MA in Linguistics, watching classic British comedy, or concocting evil schemes in the secret laboratory in her attic.
Poor K.C was sick so thanks so much for taking the time to do the interview!! You are awesome :) There is a giveaway on Goodreads for a copy of the book so make sure to enter. Don't forget to download the first book free!!!
Enter to win