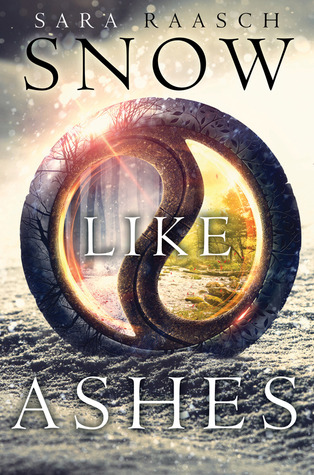 Title :
Snow Like Ashes
Author :
Sara Raasch
Pages : 432
Published : Oct 14th 2014
Publisher : Balzer & Bray
Source : Edelweiss
A heartbroken girl. A fierce warrior. A hero in the making.
Sixteen years ago the Kingdom of Winter was conquered and its citizens enslaved, leaving them without magic or a monarch. Now, the Winterians' only hope for freedom is the eight survivors who managed to escape, and who have been waiting for the opportunity to steal back Winter's magic and rebuild the kingdom ever since.
Orphaned as an infant during Winter's defeat, Meira has lived her whole life as a refugee, raised by the Winterians' general, Sir. Training to be a warrior—and desperately in love with her best friend, and future king, Mather — she would do anything to help her kingdom rise to power again.
So when scouts discover the location of the ancient locket that can restore Winter's magic, Meira decides to go after it herself. Finally, she's scaling towers, fighting enemy soldiers, and serving her kingdom just as she's always dreamed she would. But the mission doesn't go as planned, and Meira soon finds herself thrust into a world of evil magic and dangerous politics – and ultimately comes to realize that her destiny is not, never has been, her own.
Sara Raasch's debut fantasy is a lightning-fast tale of loyalty, love, and finding one's destiny.
My Thoughts :
When the Kingdom of Winter was defeated by Spring, the queen sacrificed herself so that her son, and heir, could escape. He was only a babe but he was whisked away with some other lucky survivors, but now there are only 8 left outside the grasp of Spring and these 8 are on the run and searching for the Queens locket, the source of her power, which was broken when she died.
Meira is an orphan and is being raised by Sir and his wife. She was just a babe when they escaped too and has grown up alongside the Prince. She has trained every day beside them yet Sir refuses to let her go on missions to find the locket, that is until he has no choice! They learn the location of one half of the locket and Meira is the only one able to go. Unfortunately, while the mission is a success, Meira is thrust into a world of evil, betrayal and danger and needs to do everything in her power to stay alive.
I can sum up Snow Like Ashes in one word, and that's AMAZING!!! From the very first page Raasch draws you into a world you wont want to leave. I still cant believe that this is her debut because her talent for story telling is fantastic.
Everything about this book was flawless!! The world building was unique and imaginative. The seasons each have their own realm ruled by a King or Queen. Each of those Kings or Queens have a magical trinket that is the source of their power and that can only be passed from Queen to Daughter or King to Son. No one else can wield that power and that power cant affect any of the other realms. Or so they thought until Springs magic was used to defeat Winter. Its like nothing I've read before and I adored the world the author created.
Then there's the characters. Meira is absolutely without a doubt one of the strongest, fiercest, lovable heroines I've read in a long time. She was a-freakin-mazing. So strong, loyal and kick ass yet she is kind and caring. Next we have the handsome Prince and Meiras best friend, Mather. He is overwhelmed with the legacy he has to uphold but he does whats needed of him. He has trained with Meira everyday and knows everything about her. I adored his relationship with Meira and loved seeing it kind of develop into a romance, and what I mean by kind of is that its complicated. You need to read the book to understand!! Then we have Prince Theron, the son of the King Sir is hoping will help them. He was so sweet and kind and so lovable. Meira and Theron are kind of thrown together but the chemistry is instant (and not in the dreaded insta love way). Sara Raasch has created a love triangle that I don't hate and love interests where both of them captured my heart! Both Mather and Theron are perfect for Meira in different ways and I'm still torn in deciding whom I adore more ;)
Anyway, I think I'd better wrap up this review or I'll be gushing forever about Snow Like Ashes. A stunningly written, magical debut and one you should run out and buy NOW!! You wont regret reading this action packed story filled with danger, deception, destruction and a touch of romance. Its one of the best debuts I've read and will firmly stay on my favourites shelf forever! Now all I need is more from this magical world.