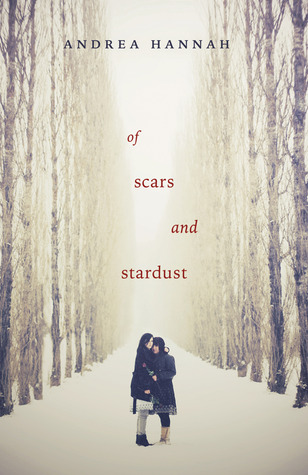 Title :
Of Scars and Stardust
Author :
Andrea Hannah
Pages : 336
Published : October 8th 2014
Publisher : Flux
Source : Netgalley
After her little sister mysteriously vanishes, seventeen-year-old Claire Graham has a choice to make: stay snug in her little corner of Manhattan with her dropout boyfriend, or go back to Ohio to face the hometown tragedy she's been dying to leave behind.
But the memories of that night still haunt her in the city, and as hard as she tries to forget what her psychiatrist calls her "delusions," Claire can't seem to escape the wolf's eyes or the blood-speckled snow. Delusion or reality, Claire knows she has to hold true to the most important promise she's ever made: to keep Ella safe. She must return to her sleepy hometown in order to find Ella and keep her hallucinations at bay before they strike again. But time is quickly running out, and as Ella's trail grows fainter, the wolves are becoming startlingly real.
Now Claire must deal with her attraction to Grant, the soft-spoken boy from her past that may hold the secret to solving her sister's disappearance, while following the clues that Ella left for only her to find. Through a series of cryptic diary entries, Claire must unlock the keys to Ella's past—and her own—in order to stop another tragedy in the making, while realizing that not all things that are lost are meant to be found.
My Thoughts :
I have no idea what to say about this book. I finished it a few days ago and I've sat down staring at the screen a lot trying to come up with my thoughts on this. My initial thought while reading was "what is going on", then when I finished was "what just happened", then when I thought about it more was "wow". It's one of the most uniquely thought provoking, compelling books I've read in a long time.
I don't even know what to make of Claire. She is very protective of Ella yet lets her walk home alone through the cornfield at night!! Then she doesn't realise Ellas missing till the morning. She was selfish in some aspects and then completely different in others. I do think though that it added to the whole feel of her character and made me understand a lot at the end.
I loved Grant both when he was younger and when Claire went back. You can see he has feelings for Claire but nothing comes from it because of what happened to Ella and Claire being sent away. Then when she comes back Grant is really the only person who believes her about the wolves and he sticks by her side throughout everything. He was a sweetheart. I loved seeing his relationship with Claire grow but after that ending I'm questioning everything about him!!!
While the book is slow to start it still sucks you in. Right from the start you are drawn in with the exquisite writing and dark atmosphere. Its a very compelling read and one that I had no idea where it was going. Usually when you read a book you can kind of see where its going but not so with this, its so complicated and the author gives nothing away till the end!! I loved that aspect of it, it was intriguing and thrilling.
I went into Of Scars and Stardust having no clue what it was about because I didn't read the blurb and I think that helped. Its such a unique and quirky book that its better off not knowing and that way it will blow your mind like it did mine.
Overall Of Scar and Stardust is a refreshingly unique read. Its complicated yet thoroughly compelling. It will leave you breathless with its exquisite descriptions and tense with the necessity to see what happens next. Its a truly different book and one I'm still thinking about even a week later. I'd highly recommend!!