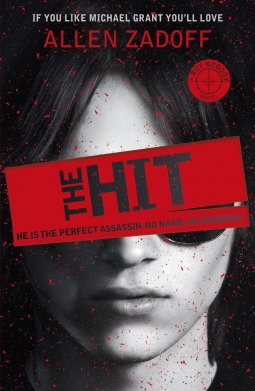 Title : The Hit
Author : Allen Zadoff
Pages : 352
Published : May 23rd 2014
Publisher : Hachette Childrens Books
Source : Netgalley
Boy Nobody is the perennial new kid in school, the one few notice and nobody thinks much about. He shows up in a new high school, in a new town, under a new name, makes few friends and doesn't stay long. Just long enough for someone in his new friend's family to die -- of "natural causes." Mission accomplished, Boy Nobody disappears, and moves on to the next target.
When his own parents died of not-so-natural causes at the age of eleven, Boy Nobody found himself under the control of The Program, a shadowy government organization that uses brainwashed kids as counter-espionage operatives. But somewhere, deep inside Boy Nobody, is somebody: the boy he once was, the boy who wants normal things (like a real home, his parents back), a boy who wants out. And he just might want those things badly enough to sabotage The Program's next mission.
My Thoughts :
This book was such a surprise for me. I've read some pretty mixed reviews of it and was hesitant to start it, but I'm so glad I did. It was freaking amazing.
The book starts right of the bat with a teenage boy killing a high profile man. He enters a school under a new identity and his mission is to make friends with the targets kid and get access to that persons home. When he does he is to inject the target with his pen, which holds a toxin that makes it look like the target has a heart attack. He then proceeds to leave without a trace. He is very good at what he does, that is until his next assignment threatens everything he believes. Will he succeed or will The Program terminate him?
I loved Boy Nobody!! His current mission tests him in every way. His feelings are all over the place and he debates with himself if he should dig deeper into The Program and see exactly what they are. I loved how he approached every mission and how we got an insight into what his thoughts and feelings were. He was just all round full of awesomesauce ;)
I also loved the idea of the book, a boy spy assassinating traitors!! Whats not to love about it! I loved how he had to ingrain himself into the persons life, without suspicion as well. In short, I loved everything about this!!
Overall The Hit was an action packed and gripping read. From the very first page you are drawn into the story and made to love Boy Nobody. Its an additive read and one I devoured. I cant wait to read more about Boy Nobody and will have to run out and buy book 2 now!! Highly recommend :)