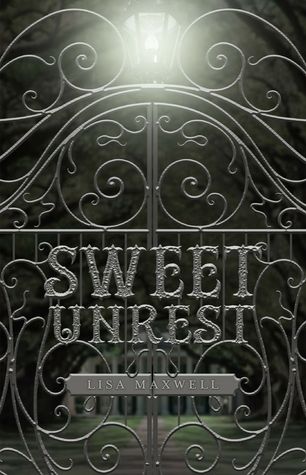 Title :
Sweet Unrest
Author :
Lisa Maxwell
Pages : 336
Published : October 8th 2014
Publisher : Flux
Source : Netgalley
Lucy Aimes has always been practical. But try as she might, she can't come up with a logical explanation for the recurring dreams that have always haunted her. Dark dreams. Dreams of a long-ago place filled with people she shouldn't know…but does.
When her family moves to a New Orleans plantation, Lucy's dreams become more intense, and her search for answers draws her reluctantly into the old city's world of Voodoo and mysticism. There, Lucy finds Alex, a mysterious boy who behaves as if they've known each other forever. Lucy knows Alex is hiding something, and her rational side doesn't want to be drawn to him. But she is.
As she tries to uncover Alex's secrets, a killer strikes close to home, and Lucy finds herself ensnared in a century-old vendetta. With the lives of everyone she loves in danger, Lucy will have to unravel the mystery of her dreams before it all comes to a deadly finish.
My Thoughts :
Lucy had been plagued with recurring dreams and when her father accepts a job in New Orleans she hopes this might help her. When they arrive on the plantation, she is overwhelmed with its beauty and stops to takes some pictures. While doing that she notices a man standing off to one side. She immediately feels drawn to him but when she looks away for a moment, he disappears.
When she stumbles across him again, she learns his name is Alex. He isn't what he seems but Lucy cant help but seek him out. As Lucy becomes accustomed to life in New Orleans, she makes friends with a Voodoo Queen, finds a witchs' house and becomes part of a centuries old vendetta. Can she solve the mystery of her dreams before its too late?
The first thing to grab me about this book was the blurb. It sounded so good and lately Im loving the books that are about voodoo and New Orleans. Its such a fascinating subject and place. Well Lisa Maxwell definitely showed the creepiness and appeal of New Orleans. She gave me chills in parts with her descriptive writing especially when she was showing us the witchs house!!
Character wise, Lucy was wonderful. She was brave, loyal, smart, strong and such a likable character. With her new surroundings and secrets revealed, I thought she handled everything perfectly. Then we have Alex, the mysterious stranger. I really liked his character too. He was such a gentleman and really cares for Lucy. I loved seeing his story unfold slowly and I loved his and Lucys relationship.
New Orleans was the perfect setting for Sweet Unrest. It made the plot that much more believable. When Lucy goes there she is skeptical of voodoo and doesnt believe but when Chloe introduces her to a Voodoo Queen she starts to think that maybe this is real. Then when things start getting out of control and people she loves are in danger, the only one who can help her is the Voodoo Queen and a ghost.
There's a romance that spans centuries and this was another highlight for me. Im not going to say too much about it in case I spoil it but its such a passionate and heartbreaking romance that you feel heartbroken for the characters involved.
Overall Sweet Unrest was such a chilling ghost story and a hauntingly beautiful love story that its a must read. With its beautiful writing and creepy setting, you will fall in love with the world that Lisa Maxwell weaves and you wont want to turn the last page. The ending was a shocker that will leave you breathless but yet its the perfect ending for the book! I will definitely be keeping an eye on this author and look forward to more from her.