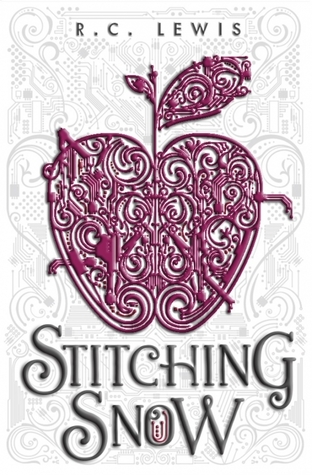 Title : Stitching Snow
Author : R.C Lewis
Pages : 338
Published : Oct 14th 2014
Publisher : Disney - Hyperion
Source : Netgalley
Princess Snow is missing.
Her home planet is filled with violence and corruption at the hands of King Matthias and his wife as they attempt to punish her captors. The king will stop at nothing to get his beloved daughter back—but that's assuming she wants to return at all.
Essie has grown used to being cold. Temperatures on the planet Thanda are always sub-zero, and she fills her days with coding and repairs for the seven loyal drones that run the local mines.
When a mysterious young man named Dane crash-lands near her home, Essie agrees to help the pilot repair his ship. But soon she realizes that Dane's arrival was far from accidental, and she's pulled into the heart of a war she's risked everything to avoid. With the galaxy's future—and her own—in jeopardy, Essie must choose who to trust in a fiery fight for survival.
My Thoughts :
When I first heard that this was a snow white retelling, I knew Id read it. Then I read the blurb and was hooked!! A snow white retelling that's set on another planet sounded awesome and I'm glad to say it was as good as I thought.
I loved Essie. She is strong, smart, brave and loyal. She lives in Thanda with the miners and is responsible for the miners having more success in the mines. She made seven drones to do the hard work and now Thanda is more efficient. She loves Stitching things together, not in the traditional sense either. She stitches code and wires etc together and loves it. Though she knows she cant do this forever because people need her. She is happy with her life until the day someone crashes into Thanda!
Enter Dane. Sweet, adorable, heroic Dane!! He stole a bit of heart. He realises who Essie is and kidnaps her to trade for his fathers life. As they go to Danes home planet, he sees that Essie is more than she seems. He finds himself drawn to her and wants to do everything he can to help her succeed.
Now for me the highlight of the book was the Drones, Dimwit in particular. He was so awesome. Cusser as well was fun. I loved that the Drones were so unique and they each had their own personality.
The romance was so sweet and slow building. I loved that it takes so long for it to blossom because it added more to it than if it was insta love. I loved that Essie knew she had to stop her father and the queen before she could claim the love.
Plot wise, I loved the sci fi element. It was different and added so much more to the retelling. I also loved that both the King and Queen were so evil. Usually its one or the other but in this both are evil. Essies father is horrible with what he does to Essie and I hated him but Essies stepmother was even worse. She was constantly plotting to have Essie killed and nearly succeeded a few times. She is the epitome of the evil stepmother.
Overall Stitching Snow was a fast paced and enjoyable read. There was pleanty of action and suspense, aswell as some twists and secrets that you don't see coming. From Dane to Dimwit, you will fall in love with the world the author has created. I really enjoyed this and cant wait for more. I want more Drones!!!